TIME-LIMITED OFFER: FREE FULL-BODY IMAGING INCLUDED WITH EVERY SKIN CHECK*

*Usual value of the full-body imaging is $50. Offer expires on 31 December 2018.


National Skin Cancer Centre Cottesloe provides expert consultations, prompt diagnoses and efficient treatment of skin cancers and related skin conditions. Combining unparalleled technology and expertise to evaluate your skin health from head to toe, all our doctors are specially trained in Skin Cancer Medicine and can confidently guide you through every stage of the process from diagnosis to treatment. Our team is supported by highly trained staff including registered nurses and patient coordinators who will carefully address your skin cancer concerns utilising the latest technology, including full-body photography.
FULL BODY PHOTOGRAPHY FOR UNPARALLELED SKIN CANCER CARE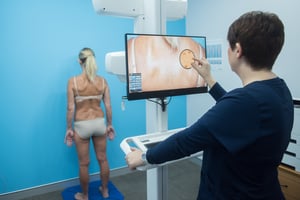 After taking a thorough clinical history, we will use the revolutionary Canfield IntelliStudio skin imaging system to take a series of digital images of your whole skin surface, providing detailed images and diagnostic evaluations to deliver the best outcomes for you. Quick and accurate total body imaging delivers consistent and comparable results, is completely painless, and you can follow the exam on the screen. Subsequently, your doctor will examine your skin from head to toe using a hand-held microscope called a dermatoscope.
Full-body imaging is the most reliable means of accurately tracking changes over time and producing potentially lifesaving results as the high-resolution images allow easy side-by-side comparison at follow-up appointments. With sophisticated software and superior expertise working together for exceptional accuracy, your doctor is able to reveal the most subtle skin changes (from 1mm!) and detect skin cancer at its earliest stage when it is most manageable and requires least invasive treatment. As new or changing skin spots are the first indication of skin cancer, you can be assured that no melanoma goes unnoticed.
Our skin cancer doctors and nurses are equipped with the necessary training to seamlessly operate the IntelliStudio system, for your utmost peace of mind.