Targeted injections of vitamins, minerals and medications for weight loss, cellulite reduction, face and neck rejuvenation, hair regrowth and more.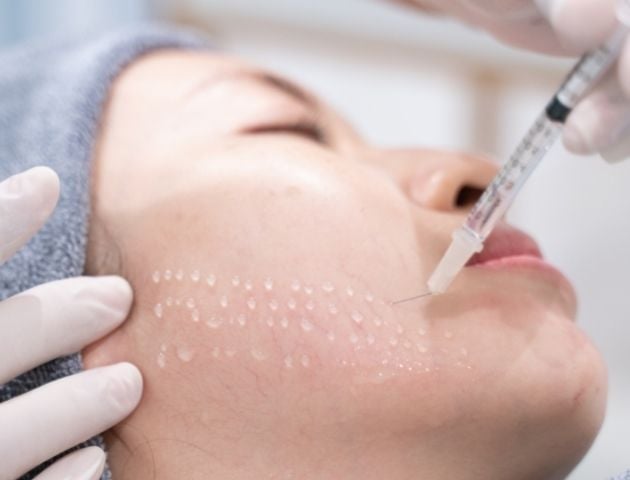 Mesotherapy uses multiple injections of vitamins, minerals, medications and amino acids in micro-doses into targeted sites just under the surface of the skin. The relatively painless injections are individually prepared depending on your specific needs, promoting the body's circulation, lymphatic and immune systems to create a desirable response.

Mesotherapy is ideal for weight loss, cellulite reduction, tightening the skin of the face and neck, and regrowing hair (particularly for patients with alopecia), among other medical uses.
Mesotherapy is ideal for:
Skin toning and tightening
Face and neck rejuvenation

Improved circulation and metabolism

Collagen and elastin production

Non-surgical treatment for fat and cellulite
Remove hard-to-shift fat and cellulite in difficult areas such as the stomach, thighs, buttocks, hips, legs, arms, and face, without surgery or liposuction.

Tighten & contour
Mesotherapy can help tighten loose skin, contour problem areas of lax or fatty tissues, and effectively smooth lines and wrinkles.

Tailored treatment just for you
Mesotherapy solutions are formulated to address your specific concerns, from hair loss to fat reduction, and even face and neck rejuvenation for a more youthful appearance.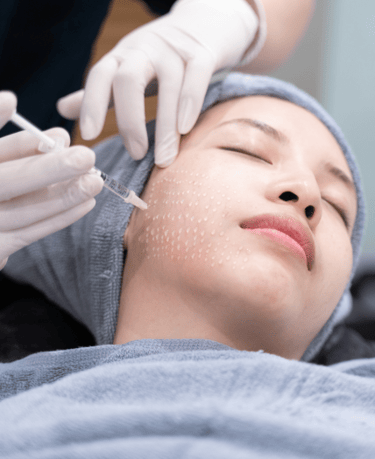 How does mesotherapy work?
Mesotherapy delivers potent antioxidants, vitamins and amino acids to nourish the skin through a series of injections with very fine needles given at different depths, from 1 to 4 millimetres into your skin depending on what condition being treated. Each injection may only place a tiny drop of solution into your skin.

Mesotherapy promotes collagen and elastin production, removes free radicals, and improves skin circulation and metabolism. This leads to skin hydration, toning and tightening, and leaves the skin radiant and glowing. Most areas can be treated including the face, neck, arms and abdomen.
Mesotherapy for fat and weight loss

Mesotherapy modifies the biology of fat cells by blocking the signals of fat accumulation, and simultaneously triggering the breakdown and release of stored fat. This can help achieve weight loss. Most problematic areas can be targeted with mesotherapy.
Mesotherapy for cellulite reduction

Cellulite is caused by poor circulation, localised fat accumulation, lymphatic congestion or weak connective tissue. Mesotherapy treats cellulite by restoring blood flow to affected areas, promoting lipolysis (dissolving fat) and lymphatic circulation, and removing hardened connective tissue.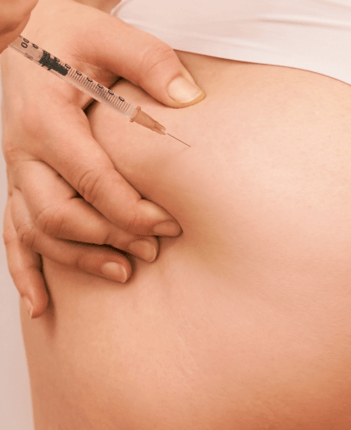 Pricing upon consultation. Please enquire at your preferred clinic location for a customised quote tailored to your specific skin needs and goals.
We offer complimentary consultations, bundle savings, and AfterPay options for your convenience.
Frequently asked questions
What is injected in the mesotherapy solution?

Mesotherapy solutions are tailored to address your specific concerns. The solutions may contain prescription medicines like antibiotics, hormones such as calcitonin and thyroxin, enzymes like collagenase and hyaluronidase, herbal extracts, and vitamins and minerals.
How often do I need mesotherapy treatments?

Mesotherapy treatments can be repeated three to 15 times to achieve the desired effect. The treatments are generally spaced one to four weeks apart.
Who will perform the mesotherapy procedure?

Mesotherapy is strictly delivered by our experienced team of dermal clinicians, including Aesthetic Doctors and degree-certified Aesthetic Nurses and Dermal Therapists. Our team hold certifications specifically focused in aesthetic medicine and are very experienced in delivering these treatments, with patient safety and expectations as our top priority. As your treatment is delivered in a medical facility, we can address any unlikely complications that may arise.
What are the possible side effects of mesotherapy?

Side effects from mesotherapy are very unlikely if you see an experienced practitioner for the treatment. Some possible side effects may include nausea, pain, sensitivity, swelling, itching, redness, bruising, bumps at the injection site, dark patches of skin, rashes, infection, and scarring. Our medical facility can help manage these side effects in the unlikely event that they occur.
How much downtime do I need after mesotherapy?

Mesotherapy is non-invasive, so there is usually no downtime and you can return to regular activities straight away. Some patients may require a day off due to swelling and pain at the injection sites.
What is mesotherapy good for?

Mesotherapy is ideal for reducing fat and cellulite, tightening and contouring your loose skin, and rejuvenating your appearance.
How long do mesotherapy injections last?

The results of mesotherapy injections last about 12-18 months.
Book an appointment for mesotherapy at a clinic near you