Acne/Rosacea Treatments Anti-Wrinkle Injections Chemical Peels Cosmetic Skin Blemish Removal Dermal Fillers
LED Light Therapy Microdermabrasion Micro Needling Photodynamic Therapy Platelet Rich Plasma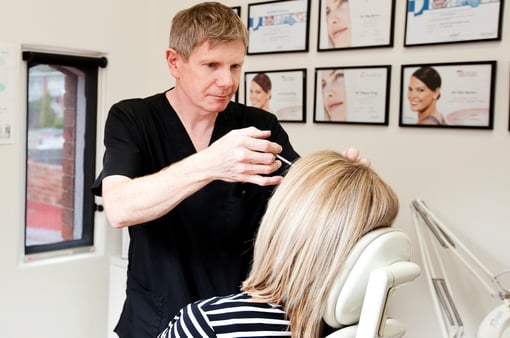 The below skin repair and rejuvenation services are currently provided at the New Town Skin Cancer and Skin Repair Centre. Cosmetic skin blemish removal is also offered at the Monash Skin Cancer Centre.
Acne is a disease of the hair follicles of the face, chest and back that affects almost all teenagers during puberty. It is not caused by bacteria, although bacteria play a role in its development. Acne can appear on the skin as occluded pores (blackheads or whiteheads), red bumps (pimples or zits), pustules and occasionally as cysts.
Rosacea is a very common red, acne-like benign skin condition that affects many people worldwide. Rosacea typically begins as redness on the central face across the cheeks, nose or forehead, but can also less commonly affect the neck, chest, ears and scalp. Unlike common acne, rosacea most often occurs in adults aged 30 to 50, especially in those with fair skin. There are usually no blackheads or whiteheads in rosacea.
Depending on the severity and stage of the condition, we develop individual treatment plans which may include:
Kleresca
Microdermabrasion
PDT/LED light therapy
Skin peels
Cosmeceuticals


ANTI-WRINKLE INJECTIONS (AWIs)
AWIs are one of the main advances in the treatment of the ageing face and are considered the wonder drug of the 21st century, used for a broad range of medical treatments. AWIs are used cosmetically to achieve a more relaxed and smooth appearance of the skin.
AWIs were approved for cosmetic use in the USA in 2002 and are safe and effective. Many people are concerned about the use of the word "toxin" when describing antiwrinkle injections; however, this medication has a well-established safety record.
AWIs work by blocking communication between nerve fibres and muscles, thereby interfering with the signal sent through the nerve that causes the muscle to contract. Because it effectively paralyses the muscles, it has proven useful in conditions where muscles are overactive or in spasm.
AWI Treatment
It takes at least three to five days for the effects of the injections to occur and the maximal effect is often not achieved for 10 to 14 days. The procedure takes no more than 15 minutes.
The effect will last for up to six months, depending on the site. There is very little pain and minimal bruising.
It is advisable that you do not lie flat for eight hours post-injections. The treated area should not be massaged or exposed to heat and you should not bend over to pick up heavy objects for 48 hours after the procedure.
After your initial treatment session, you will be re-booked for an appointment in two weeks to assess treatment response. At this stage, further antiwrinkle injections can be added to ensure the product has achieved its maximum benefit.
The areas most responsive to treatment are the frown lines between the eyes, the crow's feet around the eyes, and forehead lines. AWIs can also be used to treat:
"bunny lines" around the bridge of the nose
the "gummy smile"
the wrinkled bands around the neck
the décolletage
dimpling in the chin
the lower legs to prevent calf thickening
the armpits for excessive sweating
the cheek areas for TMJ/grinding
raising the tip of the nose
easing migraine headaches resistant to oral medications
opening the aperture of the eye
wrinkling on the face from abnormal sleeping positions.
We always aim to achieve a natural refreshed look. The more often you undergo antiwrinkle injection treatments the less often you will need them. Over time, the wrinkles will dissipate and the interval between treatments will lengthen.
For patients who are just starting to notice the signs of ageing, AWIs will likely prevent current wrinkles from deepening and further wrinkles from developing. Even adults aged older than 60 can benefit from AWI treatment, although care must be taken in this age group and dermal fillers may be more appropriate.
There are many options for chemical peels, depending on your skin condition and the area of the body affected. These include:
Glycolic Acid (AHA) Peels
Salicylic Acid Peels
Trichloroacetic acid (TCA) Peels
Chemical peels improve the skin's upper layers by inducing a healing effect as damaged layers of skin are replaced by healthy ones.
We use acid substances rather than alkali substances as they produce controlled, predictable peeling. Peels are usually divided into superficial, medium or deep. Deeper peels have a better result but are more prone to complications.
Glycolic Acid (AHA) Peels
The mildest of all chemical peels currently utilised are the glycolic acid peels. This type of peel produces some mild stinging, a little redness for a few days, and very little peeling, but does produce a fresher, smoother appearance to the skin. These peels are generally performed in a series of six treatments.
Results are not dramatic; they are not designed to get rid of fine lines and wrinkles, but can produce some minor improvement in superficial pigmentation.
Salicylic Acid Peels
Salicylic Acid is another common agent used in superficial peels. It is a better exfoliator than Glycolic Acid and is useful for acne or oily skin. It is very effective for improving the appearance of blackheads and pores as it gets into the oil gland and clears the plug. It is a relatively mild peel with scaling and redness only continuing for a few days afterwards.
You should not have this peel if you are allergic to aspirin.
Trichloroacetic Acid (TCA) Peels
Trichloroacetic acid is the most commonly utilised medium to deep peeling agent. The treatment can be quite painful, especially at high concentrations. Peeling can last for 10 to 14 days and care must be taken to avoid sun exposure. Infection control must be rigid (including avoiding exposure to cats and dogs) during the healing time. It is important to apply regular moisturisers to promote rapid healing. It is not ideal in patients with darker skin as scarring can result.
Chemical Peel Treatment
As with all our aesthetic procedures, we advise all new patients to book a consultation with one of our aesthetic doctors before undertaking any treatments. Our doctors have postgraduate training in skin cancer medicine, dermatology and aesthetic medicine.
Before
Please take these precautions prior to undergoing a chemical peel:
Skin should be free of all open wounds and cold sores
Let us know if you are prone to cold sores, as it is advisable to take a course of antiviral medications prior, during and after recovery
Please let us know if you are currently taking Roaccutane
Stop smoking prior to undergoing any form of peel at least two weeks prior to treatment
Antibiotics should be commenced one day prior to a medium/deeper peel
Keep skin free of make up on the day of your peel
Stay out of the sun prior to treatment
Do not apply home exfoliating treatments one week prior to treatment.
After
With superficial chemical peels, most patients see mild improvement in their skin within 24 hours. Skin can feel dry a few days later, so it is wise to apply moisturiser. Results take a few more days with a deeper peel, but after the necessary recovery period the skin looks healthier and blemish-free.
Superficial peels are best done as a series of six every three to four weeks. Medium depth TCA peels can be done once to twice a year.
When are chemical peels used?
Chemical peels are used to treat a variety of skin conditions including:
acne
rosacea
fine wrinkling
blotchy pigmentation (brown spots)
ingrown hairs
sallow complexion
dry skin
Medium to deeper TCA peels are better for older patients with thicker, sun damaged skin. These patients benefit from a stronger peel that exfoliates all the superficial layers of the skin and stimulates the dermis to produce more collagen.
Some peels are suited to younger patients with mild freckling or lighter skin. Younger patients with acne-prone skin, multiple blackheads or blocked pores may benefit from a salicylate peel.
Chemical peels used in combination with microdermabrasion can give your skin a nice glow. Even if your skin is pristine and you just need a quick pick-me-up, a light glycolic acid peel can be beneficial.
Ideally, the microdermabrasion is performed first, allowing a more improved surface through which the chemical peel can act, thereby extending the depth of the treatment and making it more complete.
Cosmetic removal of skin irregularities and imperfections services are currently provided at the Monash Skin Cancer Centre.
Skin irregularities such as moles, age spots, skin tags, warts, and "spider veins" are mostly harmless and aren't always a medical concern. However, they can stand out unfavourably and cause irritation on certain areas of your body or affect your self-esteem. In accordance with your doctor, you might also choose to remove an atypical lesion to reduce your risk of developing skin cancer.
As part of our comprehensive approach to managing your skin health, Monash Skin Cancer Centre offers cosmetic removal of unsightly "spider veins", lumps and bumps on your face and body with virtually no risk of scarring, bleeding or pain. The effective and affordable treatments are performed by our experienced doctors and nurses utilising the latest radio wave technology, with no scalpels or blades.
This procedure is suitable for all skin types and is effective in removing many types of skin irregularities on the face, neck, armpits, and breasts, including:
Moles
Raised growths
Age spots

Seborrhoiec keratoses
Skin tags
These treatments are injected into the skin to smooth wrinkles and improve the appearance of ageing skin by:
filling in wrinkles, fine lines and deep creases
improving other imperfections like scars
filling out thin or wrinkled lips
plumping up cheeks
contouring the jaw line and other areas of the face
These treatments are temporary because they are eventually absorbed by the body and the process is reversible.
Types of dermal fillers
Dermal fillers come in a variety of materials and are used to subtly improve the appearance of the ageing face by smoothing fine lines and wrinkles as well as replacing some of the volume loss that occurs as we lose fat from various parts of our face as we age. They can also be used to correct anatomical variants such as depressed nasal bridges and receding chins, and enhance aspects of a youthful face to create symmetry.
The original filling material was derived from collagen, but in the past 15 years there have been huge technology advances in this area with most filling material now being sourced from naturally occurring substances found in the human body. They are classified as temporary, semi-permanent or permanent.
The products we use are from reputable companies based in Australia, FDA approved, used extensively in Europe and the USA, and incorporate either hyaluronic acid or calcium hydroxyapatite.
Choice of filler
The choice of filler depends on the area to be treated, the depth of filling required, the effect desired, and the characteristics individual to each patient's face. We advise a step by step, minimalistic, gradual approach to achieve subtle and beautiful results over time.
Where dermal fillers are used
Dermal fillers can be used in areas where botulinum toxin has effectively treated the "active" wrinkles but where resting wrinkles remain. These include the crow's feet lines around the eyes, the forehead lines and brow, as well as lip lines, lip enhancement and reshaping chin lines, jaw lines and creases appearing around the mouth and nose.
As part of your initial skin consultation, your doctor will take photos of your face and discuss all treatment options regarding dermal fillers individualised to your facial shape, symmetry, skin type and age.
Before
It is important that your skin is clear of rashes, infections or cold sores. If you are prone to cold sore outbreaks it is advisable that you mention this to your doctor at the time of your initial consult and commence a course of anti-viral medication a week prior to your appointment and for a week afterwards.
If you are taking any medications or supplements that promote bruising (and are not medically necessary), stop them at least two weeks prior to your appointment. Do not stop any medications without consulting your GP first.
During
You will be seated upright in a height-adjustable chair. Facial volume and correction cannot be made correctly if the patient is lying back without the effects of gravity apparent. All makeup must be removed beforehand and your face will be cleansed with an antiseptic solution. We mix our fillers with a local anaesthetic prior to injection but, if you are extremely needle-phobic, speak to our nurse about application of a topical anaesthetic cream at least 30 minutes prior to your appointment.
Injection sessions usually take between 30 and 45 minutes. A nerve block is often advisable for injections in the lip area. This can be discussed with your doctor at the time of your initial consultation.
After
It is not uncommon to have bruising at injection sites for up to a week following treatment. This can be alleviated using ice packs and topical arnica in the post-injection period. We advise all our patients to undergo 20 minutes of red light treatment (available at our centre) immediately afterwards, which helps decrease the bruising and promotes collagen remodelling.
A temporary sensational swelling can last anywhere between 12 hours to three days post-filler treatment. Most people return to work and their normal routine the next morning after treatment. It is our practice to review our patients at two weeks post-treatment for further product placement if desired. A reversal agent can be used to alleviate swelling.
Hyaluronic acid fillers can produce excellent results for a period of six months (for the more superficial fillers) and up to 12 months (for the deeper, more robust fillers) post-injection treatment.
Calcium hydroxyapatite is an excellent volumising filler for those patients with deep hollows and furrows of the face. It can create the appearance of high cheekbones and can produce a subtle, more defined jaw line and chin, reversing the downward reverse-V effect of the ageing face.
It stimulates the body to produce its own collagen so that the effects seen immediately after treatment only continue to improve with time and can produce an effect lasting up to two years. It is also extremely effective in improving depressions and irregularities around the nose without the need to resort to plastic surgery procedures.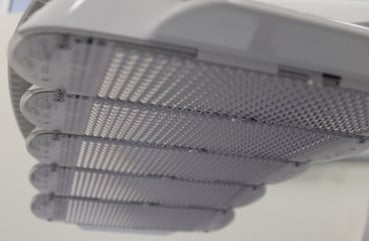 LED Light Therapy is a painless, safe and effective treatment. This non-invasive treatment allows light to penetrate deep into skin tissue. It stimulates gradual healing by increasing blood circulation and lymphatic activity. There are three types of treatments: red light therapy, blue light therapy and yellow light therapy.
The blue light therapy has been proven to be very effective against more difficult acne cases, while red light therapy is used for the treatment of rosacea, ageing, hyper-pigmentation and sun damage. The red light reaches deep skin layers and stimulates collagen fibre cell growth, improving cell metabolism and making the skin more elastic and smooth. Combinations of these colours are used to target specific skin conditions.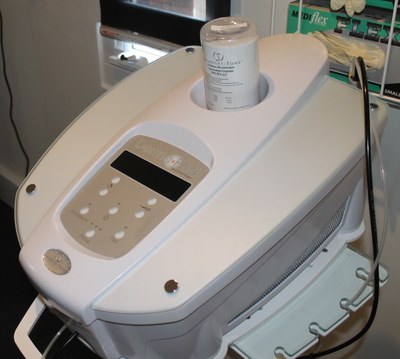 Microdermabrasion is one of the most affordable and widely available non-surgical treatments available in skin rejuvenation. It produces an immediate short-term result.
It differs significantly from dermabrasion, a treatment used by dermatologists since the 1930s for the treatment of acne scars and sun damaged skin. Dermabrasion is a much more ablative procedure than microdermabrasion. It requires anaesthesia, many hours to perform, and several weeks to heal and recover from.
Microdermabrasion involves the application of tiny, rough grains to rub away the surface layer of skin. This allows the skin's healing process to commence and bring back newer skin cells which look and feel smoother. Some visible imperfections such as sun damage and fine lines can be removed by this process. It is commonly utilised outside the traditional medical setting by beauticians.
We use a crystal head microdermabrasion device (dermapod) which relies on tiny crystals that are applied topically to the skin to perform the exfoliating process, thereby removing the upper layers of dead skin cells. The cells are then gently removed by a suction device attached to the same crystal depositing head. There is no pain or discomfort during the procedure. The combination of abrasion and suction removes upper layers of dead skin and stimulates the lower layers of healthy skin to reproduce and thicken. Skin appears softer, smoother, brighter, clearer and fresher almost immediately after treatment.
Microdermabrasion can benefit people of all ages. It is unlikely to provide any dramatic cosmetic benefit for teenagers and people in their early 20s, however it can act like a therapeutic facial massage for this age group.
Microdermabrasion is unlikely to make any major change to fine lines, wrinkles, or deep pigmentation changes such as melasma. Most skin ageing or cosmetic concerns need additional treatments such as chemical peels, micro-needling or AWI. The microdermabrasion procedure generally takes about 30 minutes, and is performed by one of our registered nurses or clinical assistants. Be assured our doctors are always on site.
Before
Some patients are not suitable for microdermabrasion. These include patients with a lot of fine capillaries, broken spider blood vessels or tendency to rosacea in the mid face. Such patients can develop pinpoint bleeding under the skin.
Skin should be free of all wounds and cold sores
Skin should not be red nor inflamed
Eyes are always protected with shields during the procedure
Before treatment, do not over-expose yourself to the sun or a solarium
Do not do an exfoliation treatment at home
During
You will be at rest on a reclining couch under soft lights, with protective eye pads and a head band. Your face will be cleansed of all makeup prior to treatment. The hand piece of the dermapod is applied sequentially over your forehead, temples, mid face, nose, upper lip, lower face, and chin. You may feel a slight pulling sensation as the hand piece moves over your face, but there is no pain or discomfort. The treatment is usually completed within 30 minutes and is followed by an application of cosmeceutical serum to promote healing.
After
Patients often feel better about the way their skin feels within 24 hours. They comment that their skin is smoother and feels fresher. These results are temporary, lasting up to two weeks. Microdermabrasion treatment can be beneficial when undertaken once a month as part of a skin care regime.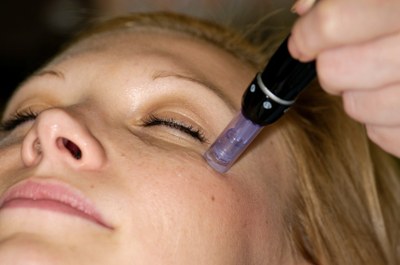 This technique is one of the most accessible and affordable treatments available in aesthetic medicine, aimed at stimulating the skin to regenerate and repair itself naturally to create smoother, brighter, healthier, younger looking skin. It is achieved in two ways: either by the use of a Derma-roller, in which tiny sterile needles are rolled over the skin creating hundreds of tiny perforations, or through the use of Dermapen – a medical device which penetrates to a greater depth using multiple needles which vertically pierce the skin in a vibrating manner, delivering up to 1000 holes per second.
The Dermapen is not suitable for anyone with an untreated skin cancer on the treatment area, anyone allergic to topical local anaesthetics, or any patient on high dose corticosteroids.
Skin micro needling is a minimally invasive treatment. All Dermapen cartridges utilise disposable needle tips, so there are no risks of cross contamination or infection. The skin is thoroughly cleansed with an antiseptic prior to the micro needling procedure. It is suitable for almost all skin types, and is non-ablative.
Before
We apply topical anaesthetic cream to the treatment area at least 45 minutes prior to the procedure. The skin is cleansed with an antiseptic solution, a topical hyaluronic acid gel is applied to the treatment area, and the Dermapen is passed over three times.
Your doctor may advise antiviral or antibiotic prophylaxis if you are prone to cold sores, staph infections, or have any associated medical conditions.
During
Each session takes about 30 minutes. We give our patients the option to recover under our Heallite LED device, which hastens recovery and improves skin collagen.
After
To ensure effective treatment, it is desirable that there will be fine pin point bleeding (similar to a very superficial graze) to the area treated with the Dermapen. Usually the skin will be pink for 24-48 hours, and feel warmer and tighter than usual. Bruising is rare but there may be minor swelling. We advise a light dressing for the immediate post-treatment period.
After micro needling treatment, your body will naturally start to regenerate and repair the skin, working below the surface. This means new collagen and elastin is formed, blood supply is enhanced, and new skin cells are regenerated. It usually takes up to six weeks before any visible signs of repair are seen, and this will continue over the following months. The results are even more outstanding when utilised in conjunction with PRP treatment.
PDT involves the application of a cream that reacts with light to kill cancer cells. This non-surgical technique is used to treat sun damage, skin cancers, sun spots and acne.
There are three steps to Photodynamic Therapy, which can take a few hours to complete:
the medicated cream is applied
the cream reacts with your skin
your skin is exposed to the light source
The technique causes damaged skin cells to be destroyed and bacteria to become inactive, while the healthy skin remains unharmed.
PRP involves centrifuging a person's own blood until it contains a concentrated mix of plasma cells and growth factors and then injecting the resulting substance directly into the injured tissue. The processing of PRP treatment takes 20 minutes and the procedure takes 20 to 25 minutes.
Before
Some patients are not suitable for PRP treatment. You must inform your clinician if you are taking medication or are undergoing any long-term therapies.
Considerations when assessing patients for this treatment include:
your health and lifestyle
platelet dysfunction syndrome
critical thrombocytopenia
hypofibrinogenemia
haemodynamic instability
sepsis
acute and chronic infections
chronic live pathology
anticoagulation therapy (warfarin)
skin disease or cancer
several metabolic and systemic disorders
During
A small sample of your blood is processed in a specialised system specifically designed to extract the plasma in a safe manner. This PRP is then injected into the areas that require tissue remodelling and rejuvenation. Your clinician may use a topical anaesthesia before injecting your PRP.
PRP is your own blood and so you are using your natural resources to repair and improve skin tissue.
After
Each person is unique and the response to intra-dermal injections will vary, though adverse reactions are rare. You may feel a tingling sensation after the procedure. Your skin texture will respond as new tissue cells grow. Visible results may take three to six weeks and continue for up to six months.
The result of the treatment will depend on overall health, age, dietary variations, and other health factors including your unique skin type.