Lift, tighten and contour sagging skin around the face, jowls and neck.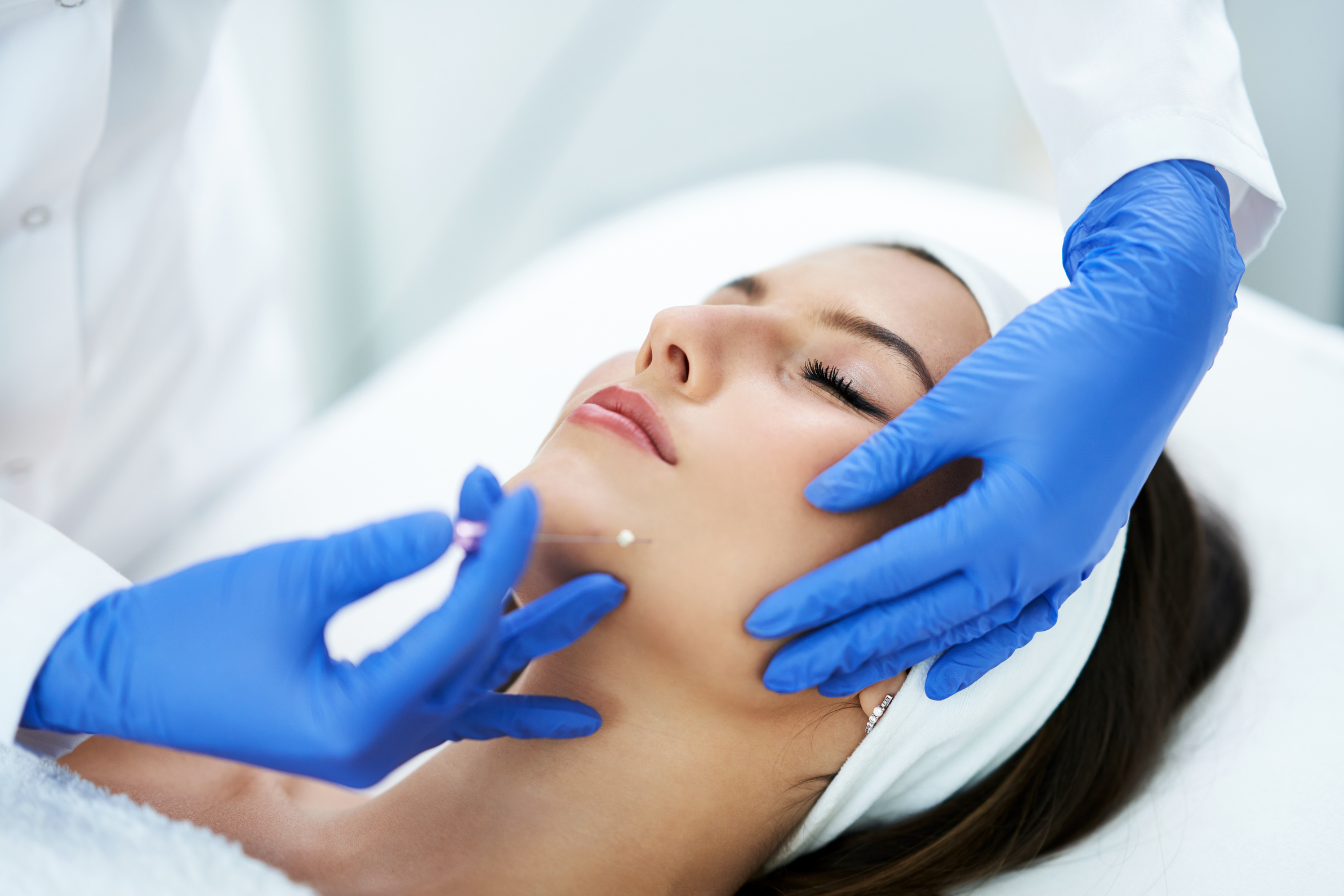 Stay naturally beautiful at any age
Lift and support sagging skin around the face for tighter, smoother and more contoured skin. A thread lift is ideal for lifting and tightening skin around the cheeks, neck, jowls, eyebrows and nose to undo the effects of gravity and achieve a younger appearance, with minimal downtime compared to surgery.
Thread lift is the ideal treatment for:
Lift and reposition sagging skin on the face

Restore the contour of the cheeks

Lift nasolabial folds and jowls
Re-establish a natural and youthful facial shape

Re-establish a stronger jawline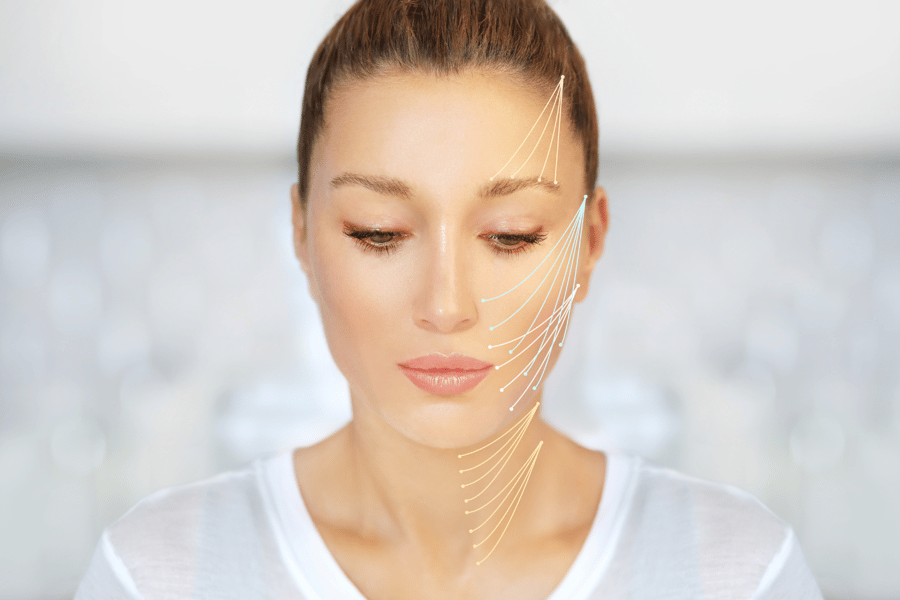 Undo the effects of gravity
Thread lifts enhance your natural face shape and contour problem areas like the cheeks, jowls and neck.

Non-surgical facelift
Tighten your skin and restore a more youthful look with a minimally invasive thread lift procedure that is cheaper, faster and more convenient than surgery, with less downtime.

Stimulate collagen renewal
Enjoy long-lasting results with a boost in collagen seen weeks after the thread lift procedure, enhancing your look for longer.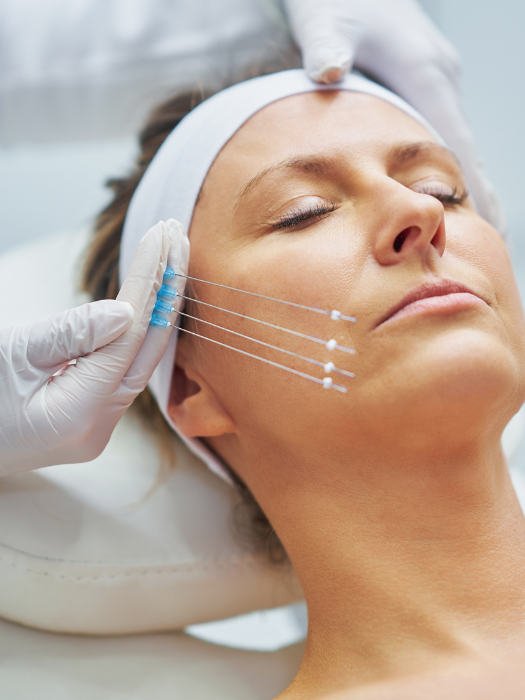 How do thread lifts work?
A thread lift involves the use of temporary sutures to produce a subtle but visible lift in the skin around the face. Instead of surgically removing loose facial skin, portions of the face are resuspended. This has the effect of pulling back the skin and tightening the face.
The thread lift procedure is performed under local anesthesia. Special fine threads with barbs or cogs are placed under the skin using special needles. The barbs allow the threads to anchor to the tissues. When they are in the correct position, the top ends of the threads are pulled, tightened and secured to mobilise soft tissues into the new position.
Once the threads are in place, they stimulate collagen production around them. This helps in securing the tissues in the new lifted position, with further improvement seen over the following months.
The number of threads used and the exact placement site depends on patient's needs, facial structure and degree of sagging. Our experienced doctors use a number of different types of thread depending on what is most suitable for the patient.
The entire treatment takes less than an hour, and the recovery time is minimal compared to traditional facelift surgery, with low risk for scarring and bruising. Some discomfort is experience when local anaesthesia is injected, but no or minimal discomfort is felt after that.
Before and after results from thread lifts
The "before and after" images show potential outcomes of our services, which can differ between patients due to individual treatment plans. We will create a personalised plan for you to achieve results that are appropriate for your needs. Images courtesy of Dr Maysa Abu Laban, (Specialist General Practitioner, MED 0001577155).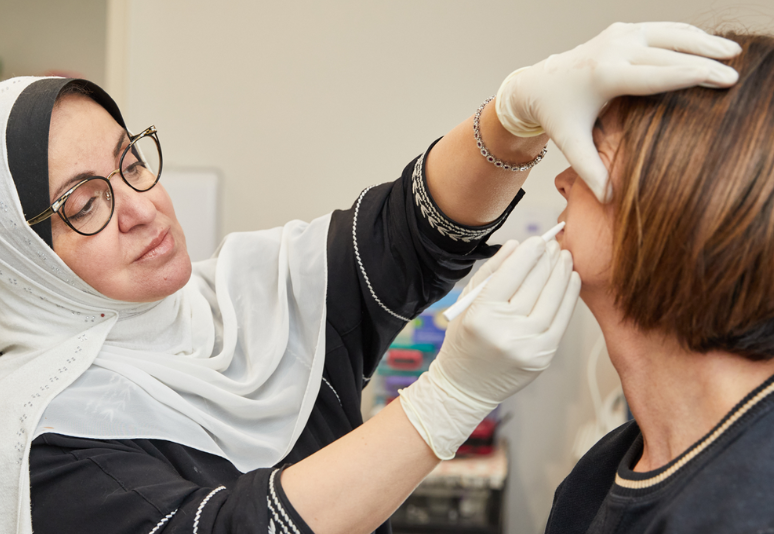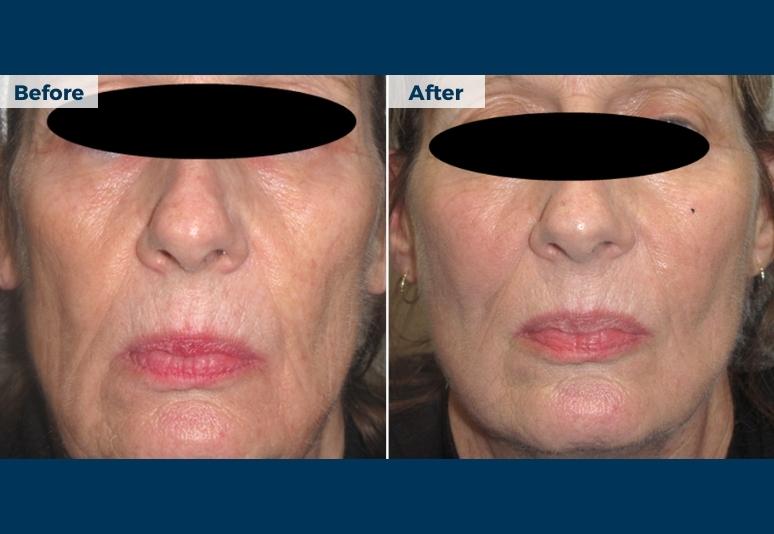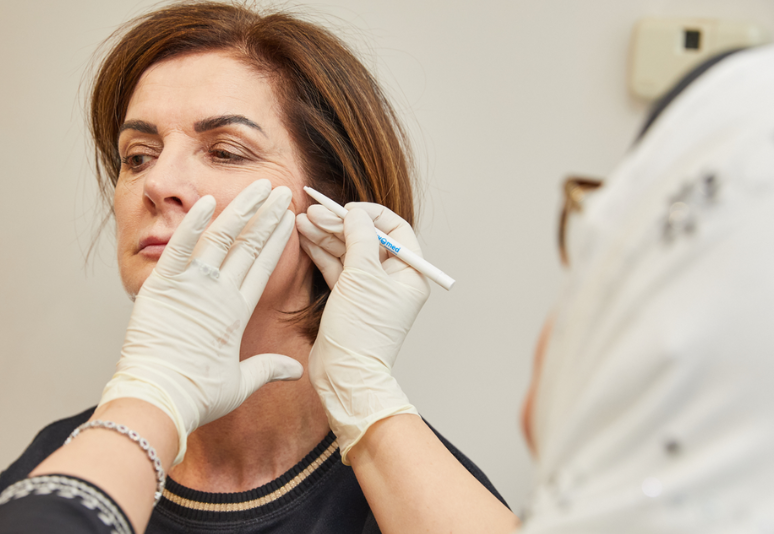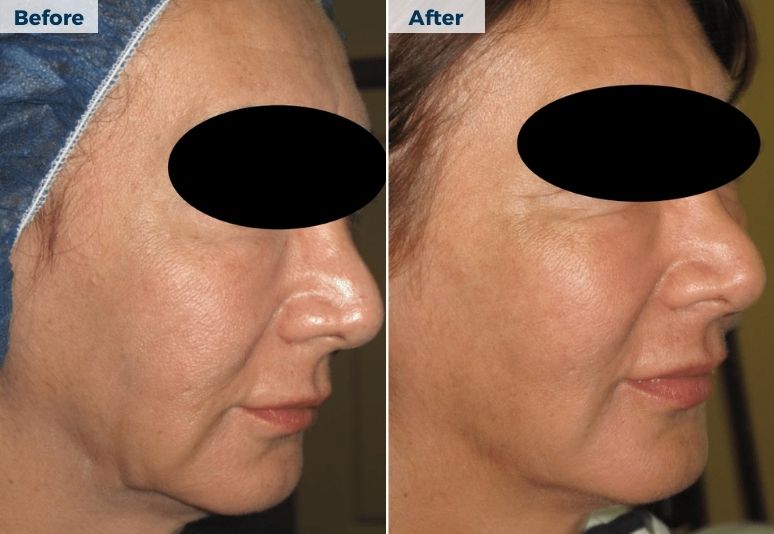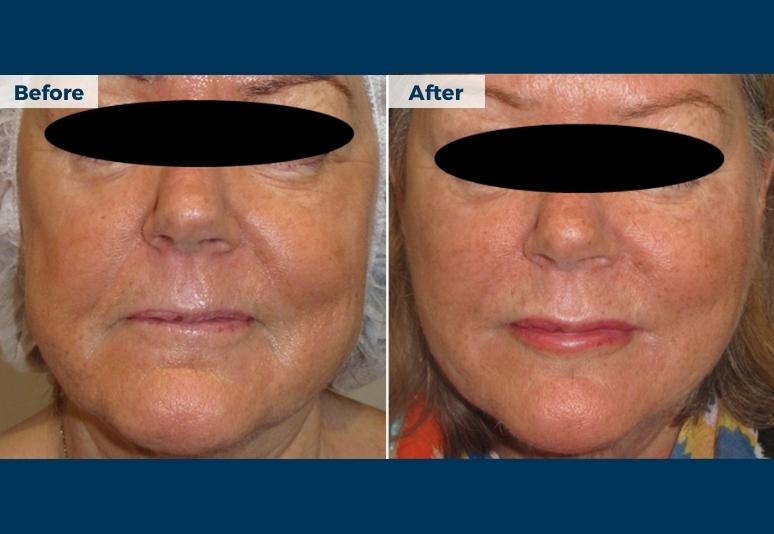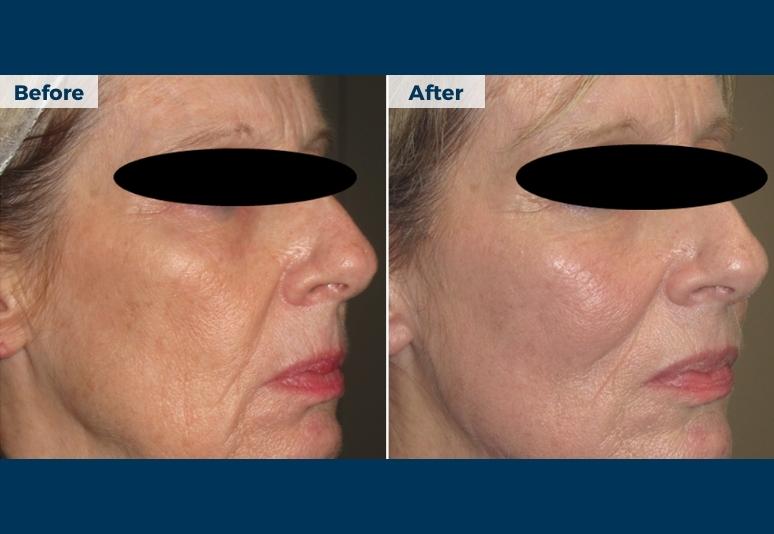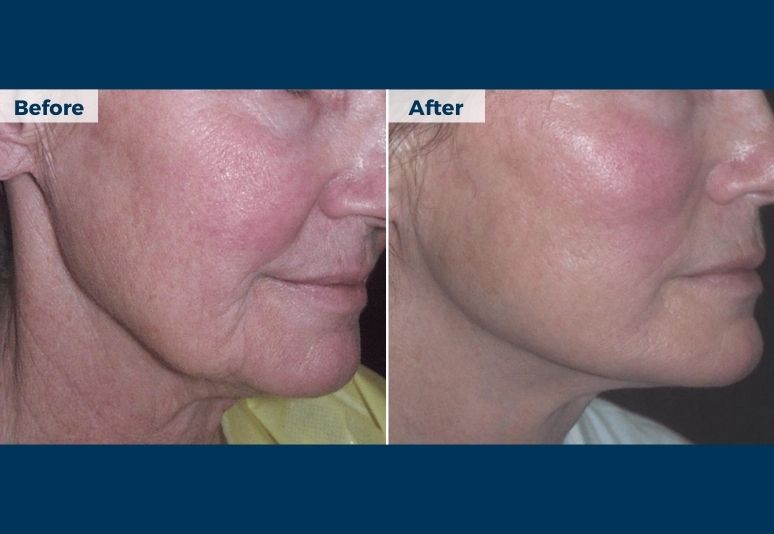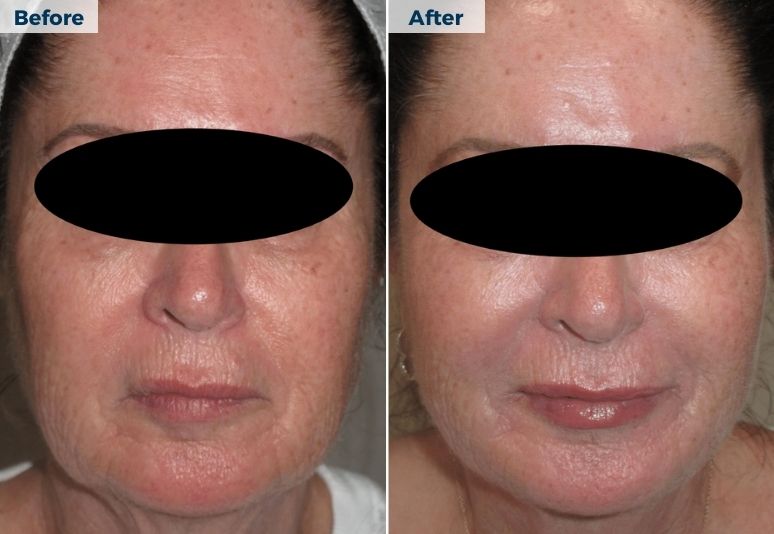 We use anchoring threads, which have tiny barbs that gather the skin to produce a noticeable lift. The barbs are strategically placed to hook into surrounding tissue to lift and hold it in place, and then anchored into the brow, temple or scalp. The threads are hidden from sight in the hairline. Thicker barbed threads can also be used to lift the breasts and buttocks.
Available at our West Leederville skin clinic.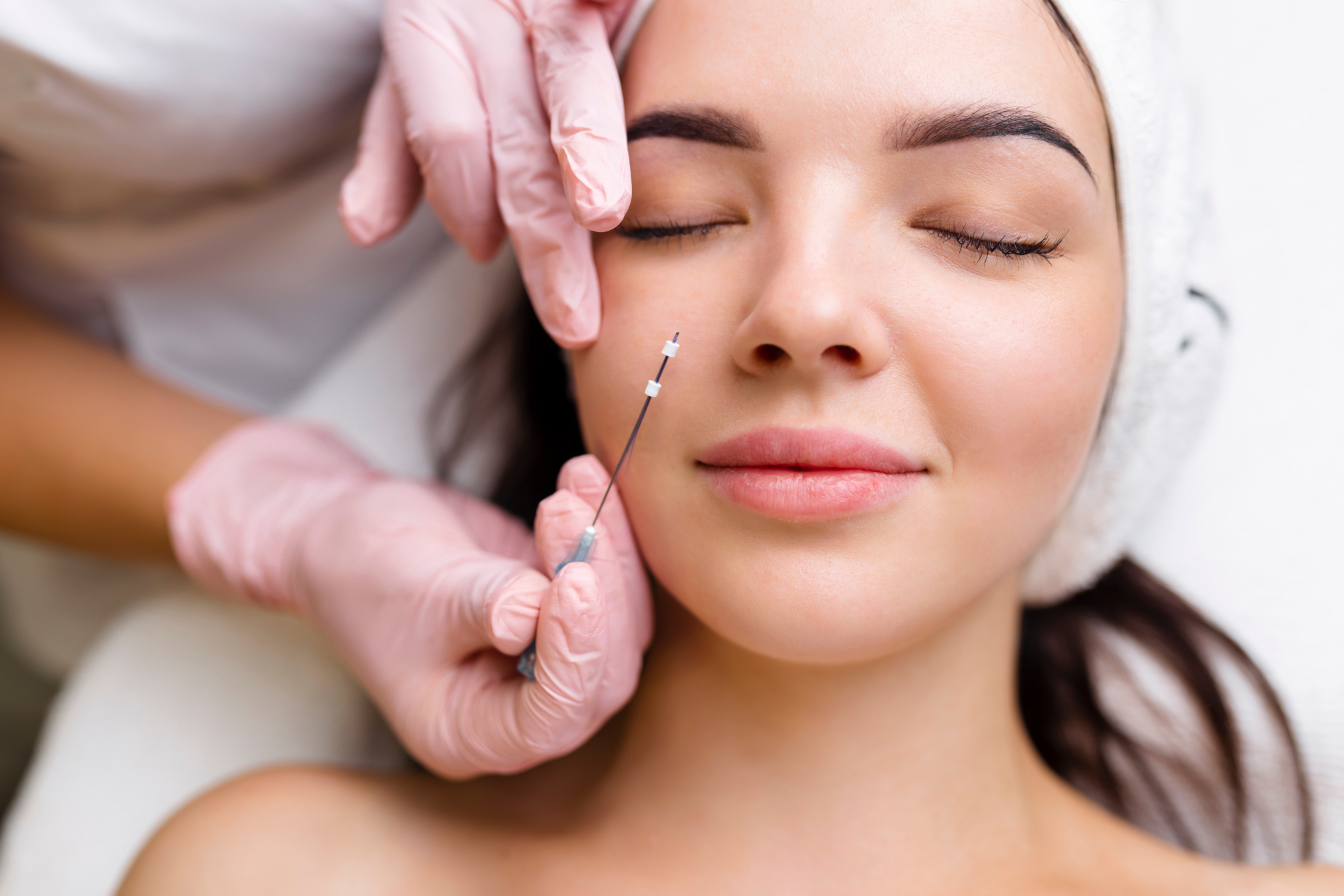 One week before your thread lift procedure, make sure you:
Avoid alcohol of any kind as well as smoking.
Stop taking Vitamin E and supplements such as Fish Oil, Krill, Garlic, Chili, Ginseng, Ginger & Green Teas
Any aspirin-based products such as Ibuprofen, Neurofen, etc., should be avoided. Inform our medical staff if you are taking any anti-inflammatory medications or blood thinning medication
What you do after your treatment and how you take care of your skin is very important.
For 48 hours post treatment you can apply a cold compress

on the treated area if required.

No pressure is to be exerted on the face.

Avoid excessive laughter and large facial expressions for at

least 24 hours post treatment.

Elevate the treated area when sleeping, and sleep on your

back for 2 weeks – do not sleep with pressure on your face.

Antibiotics may be necessary after your treatment, your

doctor will prescribe an appropriate treatment for you. Please take the medication as directed.

Drink plenty of fluids, avoid very hot drinks and alcohol.

It is recommended to eat soft foods to avoid excessive chewing for 48 hours post treatment

Avoid smoking.

No dental work for 1 month after procedure.

Avoid exaggerated facial movements and excessive opening of the mouth for 2 weeks post treatment.

No strenuous exercise for 2 weeks post treatment, light exercise (walking) is ok.

No sauna or steam room use for 2 weeks post treatment.

Avoid any activities where the treated area may get contaminated (i.e. gardening, cleaning, etc) for 48 hours post treatment.

Make up should be avoided for 24 hours post treatment, and thereafter a breathable foundation such as Oxygenetix should be used.
Please note: it is completely normal to experience swelling,
bruising and some discomfort after the treatment. You may also
experience a tight, pulling feeling in the treated area
Following pre- and post-treatment care guidelines will help optimise your results. Your clinician will walk you through any contraindications or side-effects that might impact you. Possible risks include:
• Anaesthesia risks
• Difficulty opening your mouth
• Extrusion of a thread
• Infection
• Persisting pain
• Sensitivity to sunlight or bright light
• Swelling and bruising
• Unfavourable results


Pricing upon consultation. Please enquire at your preferred clinic location for a customised quote tailored to your specific skin needs and goals.
We offer complimentary consultations, bundle savings, and AfterPay options for your convenience.

*AfterPay available at select locations
Frequently asked questions
What are the possible side effects or disadvantages of thread lifts?

As with any other procedure, side effects are far less encountered when the thread lift procedure is performed by an experienced clinician and when patients adhere to before- and after-care instructions. However, some patients experience:

Bruising and swelling

Skin puckering and dimpling

Infection

Thread breakage and migration (very rare with newer threads and good technique)

The usual recovery period following the thread lift procedure is 5-7 days.
How long does thread lift take?

The thread lift procedure takes 60-90 minutes. It is performed under local anaesthetic and is minimally invasive.
How many threads are used in thread lift?

The type of threads used, their number and placement site vary depending on facial structure and degree of sagging.
How can I optimise my results after thread lift?

To optimise outcomes, alternative treatments may be advised in addition to thread lift, such as dermal fillers or double chin treatment.
How painful is a thread lift?

You will not feel any pain during a thread lift procedure because local anaesthetic is used. You may experience some soreness during healing.
Book an appointment for thread lifts at a clinic near you