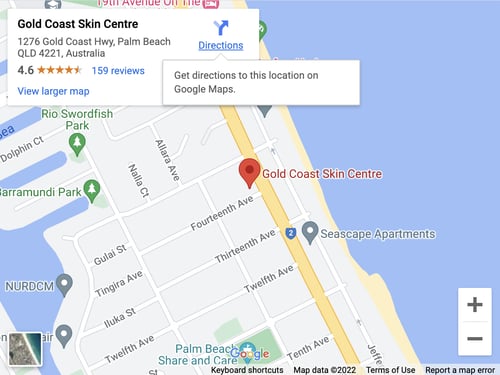 Gold Coast Skin Centre
We are a private billing clinic. Medicare rebates available.
No referral required.

Opening hours:
Monday to Friday: 9.00am - 5.00pm
Every second Sat: 9.00am - 12.00pm

Address:
1276 Gold Coast Hwy
Palm Beach, QLD 4221

Phone: 07 5520 1000
Email: palmbeach.reception@skincancercentres.com.au

Parking:
There is parking at the rear of the centre and limited street parking in the surrounding streets.
Our clinic uses HotDoc for online bookings and SMS reminders
Full body skin cancer check
$90 - $177
Fee may vary depending on appointment length.
Medicare rebate available
$90 - $127 (pensioners)

Saturday appointments: $140 - $177
Spot check
Check with staff
Fee may vary.
Medicare rebate available
Total body photography
$100
Recommended for earliest detection in high-risk patients.
Cancellation policy
We require a minimum of 24 hours' notice for any appointment cancellation to allow time to reallocate your appointment to another patient. If you cancel within 24 hours of your appointment, or fail to attend a booked appointment, we reserve the right to charge a pre-payment prior to future bookings. In the case of pre-paid services, the service will be forfeited.
At our skin cancer clinic on the Gold Coast (Palm Beach), Gold Coast Skin Centre, we provide a comprehensive approach to looking after your skin health. The qualified team works primarily in skin cancer diagnosis and treatment, and experienced doctors are supported by a highly trained team of support staff for your optimal care. Following our vision of a world where nobody dies of skin cancer, we deliver the highest standard of care and save lives every day. Our medical team will provide you with expert advice, utmost skill – and most importantly, peace of mind. We can help you with skin cancer screening and diagnosis, total body photography, surgical and non-surgical skin cancer treatments, sun damage repair, mole removal, and wound and scar management.

Conveniently located near Pacific Beach, just 20 minutes from the NSW border, parking is available at the rear of the centre and limited street parking can be found in the surrounding streets, including Fourteenth Avenue, Fifteenth Avenue, and Cypress Terrace. If you arrive by car, entry via Fourteenth Avenue is best. If you're taking public transport, the nearest bus stop is just outside at Gold Coast Hwy at Fifteenth Avenue.

Your health and satisfaction are at the forefront of everything we do. We understand that all patients have varying requirements and aspirations; therefore we will always tailor your care plan for you and work hard to exceed your expectations. Thank you for choosing us for your skin check on the Gold Coast!
Frequently asked questions
Why am I getting moles in my 30s?

Typically, all the moles and freckles we will develop in our lifetime appear during our childhood. It is possible to develop new benign moles after the age of 30, but you should get everything new checked out by a doctor as a safety precaution, because new moles after 30 have a higher chance of being malignant (cancerous).
Where can I find a skin cancer clinic on the Gold Coast?

Conveniently located on the Gold Coast Highway, Palm Beach, the Gold Coast Skin Centre is 20 minutes from the NSW border. Parking is available at the rear of the centre and limited street parking can be found in the surrounding streets. If you are arriving by car, entry via Fourteenth Avenue is best. There is a bus stop at the front entry to the centre.
What are the three types of skin cancer?

The most common type of skin cancer in Australia is basal cell carcinoma (BCC). The second most common skin cancer type is squamous cell carcinoma (SCC). The third most common is melanoma. There are other types of skin cancer such as merkel cell carcinoma, but these are rare.
How curable is skin cancer?

Skin cancer can be successfully treated and cured if detected early enough. Most early skin cancers can be removed with minimal harm to the patient. More advanced skin cancers can be difficult to remove and may cause disfigurement and scarring. Deadly skin cancers like squamous cell carcinoma and melanoma can spread to other organs and require much more significant treatment such as radiation therapy and major surgery to prevent death.This is a rare occurrence if the malignancy is diagnosed and treated early - which is why skin cancer checks are so important!
What is basal cell carcinoma and what does it look like?

Basal cell carcinoma is a malignancy of the basal cells in the skin, usually caused by damage from UV exposure. A BCC can sometimes look like an open sore that won't heal, a red patch of skin, a pink growth, a shiny bump or nodule that sticks out from the skin, or even a blister. Basal cell carcinomas can ooze or bleed, and can become itchy or crusty.
Book your appointment at Gold Coast Skin Centre
WHY CHOOSE US
How we make a difference
Improve access to skin cancer care and reduce the mortality of the disease.
Reduce waiting times for patients to receive efficient diagnosis and treatment.
Provide skin cancer care to communities with limited access to specialists.
Save lives by reducing delay in diagnosis and treatment.
Relieve the public hospital system by providing affordable quality care.
Offer referral option for GPs managing patients outside their scope.
NOT THE SKIN CANCER CLINIC YOU ARE LOOKING FOR?