A clinical approach to reveal your best skin
Experience comprehensive skin health care at our skin cancer and cosmetic clinic.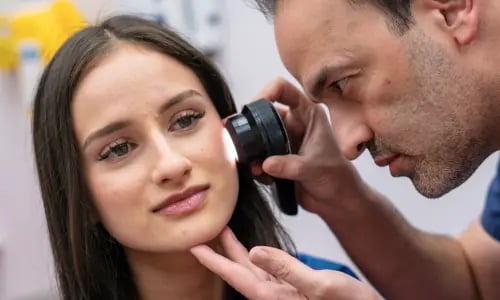 We are a doctor-led clinic
Being a doctor-led skin cancer and cosmetic clinic, we can provide a premium level of expertise to deliver safer and more effective skin therapies for you.
Our medical team of specially qualified doctors and aesthetic nurses can support you with conclusive diagnoses and scientifically proven treatments while adeptly minimising risk and managing any complications that may arise.
Access medical-grade skin cancer and aesthetic treatments in dedicated facilities that adhere to a strict code of medical standards and ethics.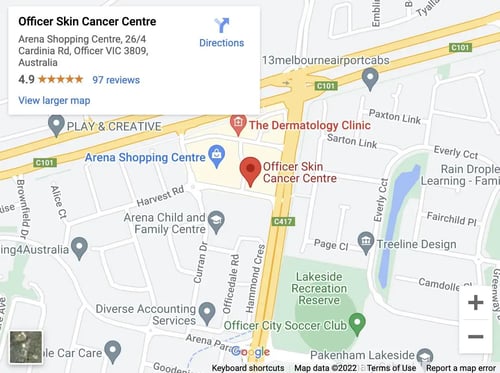 Officer Skin Cancer Centre
We are a private billing clinic. Medicare rebates available.
No referral required.

Opening hours:
Monday to Friday: 9.00am - 6.00pm

Address:
Arena Shopping Centre
26/4 Cardinia Rd
Officer, VIC 3809

Phone: 03 5940 5006
Email: officer.reception@skincancercentres.com.au

Parking:
Located in Arena Shopping Centre next to Officer Medical Centre and The Dermatology Clinic. Entry is from Cardinia Road and Damon Street via controlled entry. There is ample free unmetered parking for our patients.
Receive a full-body examination of your entire skin surface with a qualified doctor utilising dermoscopy for earliest skin cancer diagnosis. Be treated on-site in our surgical operating theatre or discuss topical treatment options with thorough aftercare.
Skin cancer checks, treatment & sun damage repair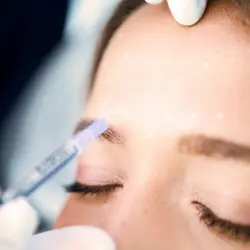 Rejuvenative injectables are ideal for reducing signs of ageing such as wrinkles, lines and volume loss, helping you to rejuvenate and repair your skin.
Muscle relaxants, fillers & more
Skin treatments are ideal for a range of common skin concerns such as acne, pigmentation, dull complexion, uneven skin tone, congestion, rosacea, skin laxity, and more.
Book a complimentary consult at Officer Skin Cancer Centre
Officer Skin Cancer Centre is a private billing facility. We offer several payment options, including cash, EFTPOS and credit card. Afterpay is available for cosmetic treatments.
With the exception of Veterans DVA Gold Cards who will continue to be fully bulk billed, and White cards under a conditional basis, patients will fall into one of two categories: concession and private.
For your convenience, we use Medicare online so your rebate will be refunded promptly. Please ask our staff for more information.

Full body skin cancer checks
$130 - $190
Fee may vary depending on appointment length.
Medicare rebate available.
$130 - $170 (pensioners)

Saturday appointments: $150 - $210
Spot checks
$90 - $135
Get spots of concerns checked in-between your full-body checks.

Medicare rebate available.
$110 (existing patient)

$90 (pensioner)

$135 (new patient)

$115 (new patient - pensioner)

Cosmetic Mole Removal From $79
Cosmetic injectables
From $39
Address lines and wrinkles with natural, lasting results.
First consultation complimentary.
Anti-wrinkle injections
From $39

Smooth & Enhance: from $349

2 areas anti-wrinkle injections

Lift & Define: from $849

2 areas anti-wrinkle injections + 1ml dermal filler

Plump & Pout: from $399

- 1ml filler for delicate volume & definition $399

- 1ml premium thick filler for extra volume $499

Dermal filler

From $599 (1ml)

from $489

Hyaluronic acid micro-filler

Bio-remodelling treatment From $649
Medical-grade skin treatments
From $50
Repair and rejuvenate your skin for an enhanced texture & appearance.

Save 20% with bundles*.
LED light therapy

From $50
6 x LED $250

Medi-aesthetic facial

From $99

Microdermabrasion
From $129

Skin Revive treatment $150
Consult + microderm + peel + serum application
*Terms and conditions

Injectables packages T&Cs: Package prices are based on our minimum recommended dosage of anti-wrinkle injections for the specific areas. More units may be required based on the practitioner's assessment of individual needs, desired outcomes, and genetic makeup, and any additional cost will be quoted by your practitioner. The dermal filler applies only to a specific type of filler and are limited to injection in the lips and cheeks only. Treatments cannot be transferred to another person or traded for other services or products. These packages must be used within one treatment session unless otherwise determined by the medical practitioner. All cosmetic injectable treatments require pre-booking and consultation with our medical professionals before treatment. Risks and side effects associated with the treatment will be discussed during the consultation. Patients are under no obligation to continue with the treatment, and practitioners may decline to deliver the treatment if the patient is deemed unsuitable. These packages may not be combined with any other promotions or offers. Product names cannot be used in advertising, so please contact our clinic for details.

Save 20% on 3 Skin Therapist treatments bundle T&Cs: Purchase a bundle of three skin therapist treatments and save 20% discount on the total cost. This offer is valid exclusively for microdermabrasion, medi-aesthetic facials, and chemical peel treatments, and you can mix and match these treatments. This bundle discount cannot be combined with any other offer, discount, or package. The full payment for the bundle must be made at the time of your first appointment. No refunds or cash back will be given for unused portions of the treatments.

$50 treatment credit T&Cs: Please present this voucher at your appointment to redeem. Offer valid for new cosmetic patients only and not in conjunction with any other offer, discount, or package. Offer excludes skincare and cosmetic injectables. One-time use only.
At our skin clinic in Melbourne, Officer Skin Cancer Centre, we provide a comprehensive approach to looking after your skin health. The qualified team works primarily in skin cancer diagnosis and treatment as well as the management of medical and cosmetic skin conditions, and experienced doctors are supported by a highly trained team of support staff for your optimal care. Following our vision of a world where nobody dies of skin cancer, we deliver the highest standard of care and save lives every day. Our medical team will provide you with expert advice, utmost skill – and most importantly, peace of mind. We can help you with skin cancer screening and diagnosis, total body photography, surgical and non-surgical skin cancer treatments, sun damage repair, and wound and scar management.

We approach skin repair and rejuvenation with the same level of respect and credibility as skin cancer medicine. Providing solutions to patients who wish to restore a healthy and naturally beautiful appearance to their skin, we address general dermatology conditions and cosmetic skin concerns, including acne, rosacea, sun damage, scarring, ageing and more in a safe medical environment.

Conveniently located at the Arena Shopping Centre next to Officer Medical Centre and The Dermatology Clinic (just an hour from Melbourne CBD), ample free parking is available at the front door via controlled entry from Cardinia Road and Damon Street. If you're taking public transport, the nearest bus stop is just outside at Cardinia Rd/Princes Hwy.

Your health and satisfaction are at the forefront of everything we do. We understand that all patients have varying requirements and aspirations; therefore, we will always tailor your care plan for you and work hard to exceed your expectations. Thank you for choosing us for your skin check in Melbourne!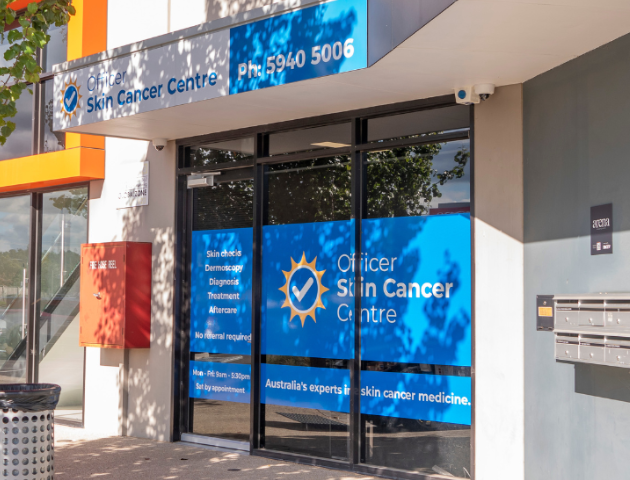 Book your appointment at Officer Skin Cancer Centre
Frequently asked questions
Can skin cancer look like a pimple that won't go away?

Skin cancers, including potentially deadly melanomas and squamous cell carcinomas, can sometimes appear as blisters, pimples, or simply sores that won't go away. The only definitive way to identify a skin malignancy is to have it assessed by a doctor with training in skin cancer medicine, who will examine the lesion with a dermatoscope and perform a biopsy to confirm their diagnosis.
Where can I find a skin cancer clinic in Melbourne?

Conveniently located at the Arena Shopping Centre next to Officer Medical Centre and The Dermatology Clinic, Officer Skin Cancer Centre is just an hour from Melbourne CBD. It was formerly called Sun Patrol Skin Cancer Centre. Ample free parking is available at the front door via controlled entry from Cardinia Road and Damon Street. If you're taking public transport, the nearest bus stop is just outside at Cardinia Rd/Princes Hwy.
Is skin cancer Check Free in Australia?

Comprehensive skin cancer checks are privately billed, which means they are not fully covered by Medicare. However, after you pay the upfront cost of the skin check, you can claim a partial Medicare rebate of approximately $39 or more.
How long do anti-wrinkle injections last?

The effects of anti-wrinkle injections will last for up to six months, depending on the site. The more often you undergo anti-wrinkle injections the less often you will need them. Over time, the wrinkles will dissipate and the interval between treatments will lengthen.
What does dermal filler do and how long does it last?

If you have hollowness in your cheeks, under-eyes, chin or jaw, it could be a result of lost tissue and fat volume. Dermal fillers, which are made from naturally occurring substances found in the human body, help to replace that lost volume. Dermal fillers are strictly administered by medical professionals in our centre who achieve great results in restoring a more youthful appearance to your face and enhancing your natural features.
Our clinic uses HotDoc for online bookings and SMS reminders

WHY CHOOSE US
How we make a difference
Improve access to skin cancer care and reduce the mortality of the disease.
Reduce waiting times for patients to receive efficient diagnosis and treatment.
Provide skin cancer care to communities with limited access to specialists.
Save lives by reducing delay in diagnosis and treatment.
Relieve the public hospital system by providing affordable quality care.
Offer referral option for GPs managing patients outside their scope.
NOT THE SKIN CANCER CLINIC YOU ARE LOOKING FOR?