Bio-remodelling
to hydrate, and tighten.
Slow-release hyaluronic acid to smooth
wrinkles, treat volume loss, and improve skin
tone & hydration.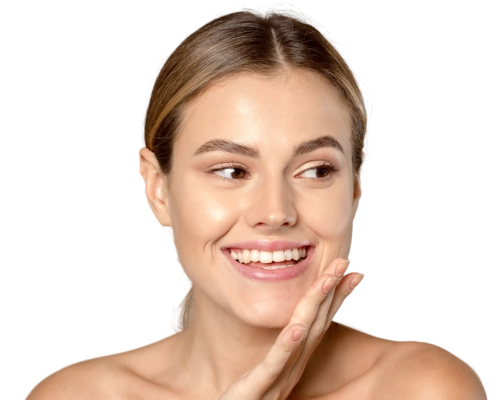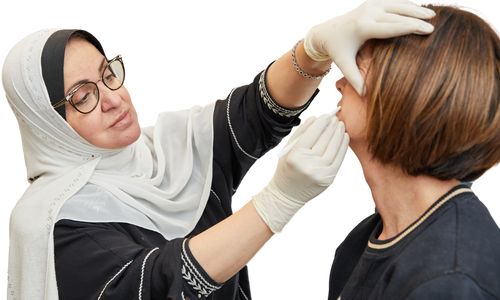 Dr Maysa Abu Laban | MBChB, MBBS, Diploma Of Skin Cancer Medicine & Surgery, MMed (Skin Cancer), MRCPUK, FCPCA
(Specialist General Practitioner
MED 0001577155)
We are a doctor-led clinic with 19+ years' experience
Our cosmetic clinic has been perfecting the art of non-surgical aesthetic rejuvenation for over 19 years. Being doctor-led, we can provide a premium level of expertise to deliver safer and more effective skin therapies for you, including access to medical-grade aesthetic treatments in dedicated facilities that adhere to a strict code of medical standards and ethics.
Under the direction of Dr Maysa Abu Laban, our practice can support you with conclusive diagnoses and scientifically proven treatments while adeptly minimising risk and managing any complications that may arise.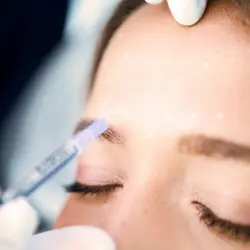 Rejuvenative injectables are ideal for reducing signs of ageing such as wrinkles, lines and volume loss, helping you to rejuvenate and repair your skin.
Muscle relaxants, fillers, bio-remodelling & more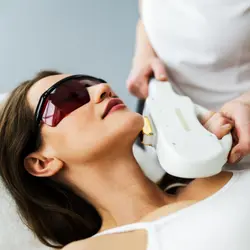 Tighten and contour areas with volume loss, lax or sagging skin to enhance the natural shape of your face and body and accentuate your best features. Treat heavy or droopy eyelids, double chin, and remove stubborn fat pockets.
Skin tightening
IPL & laser treatments
Body treatments
Skin treatments are ideal for a range of common skin concerns such as acne, pigmentation, dull complexion, uneven skin tone, congestion, rosacea, skin laxity, and more.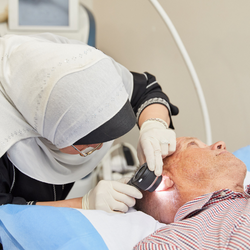 Receive a full-body examination of your entire skin surface with a qualified doctor utilising dermoscopy for earliest skin cancer diagnosis. Be treated on-site in our surgical operating theatre or discuss topical treatment options with thorough aftercare.
Skin cancer checks, treatment & sun damage repair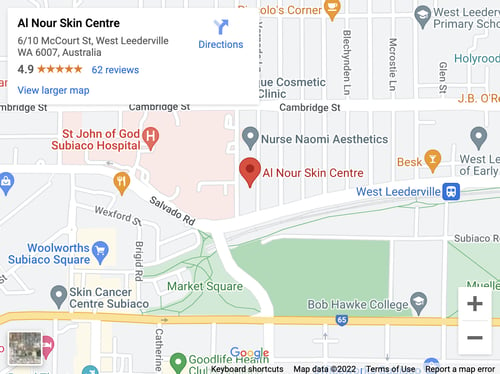 Al Nour Skin Centre
We are a private billing clinic. Medicare rebates available.
No referral required.

Opening hours:
Monday to Friday: 8.00am - 5.00pm

Address:
Suite 6, 10 McCourt Street
West Leederville, WA 6007

Phone: 08 9481 3366
Email: alnour.reception@skincancercentres.com.au

Parking:
Street parking available.
Before and after results you'll love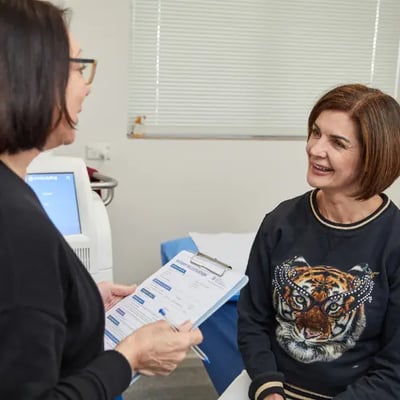 Complimentary consultations and expert advice for your skin concerns
Book a complimentary consult with a Skin Therapist at the Al Nour Skin Centre to receive personalised skincare and treatment recommendations for wrinkles, fine lines, pigmentation, acne, scarring, redness, open pores, skin texture, ageing and more.
Skin cancer
& spot checks
From $80
Medicare rebates available. Fee may vary depending on appointment length.
Sun damage & actinic keratosis treatment

Upon consult

Skin cancer treatment

Upon consult

Mole & skin tag removal

Upon consult

Photodynamic therapy

From $200
Cosmetic
injectables
Upon consultation
Address lines and wrinkles with natural, lasting results.

Doctor consultation
$150

Mesotherapy
From $250

Anti-wrinkle injections

From $330

Fat-dissolving injections
From $850

Bio-remodelling treatment

From $850
Skin tightening, laser
& IPL rejuvenation
From $80
Target ageing, acne, scarring, redness & pigmentation concerns.
IPL skin treatments

From $350

IPL hair removal
From $80

CoolSculpting
From $559

Fibroblast skin tightening
From $850

Thermage CPT tightening
From $3,300

AcuPulse CO2 laser resurfacing
From $1,200
Medical-grade
skin therapies
From $50
Repair and rejuvenate your skin for an enhanced texture & appearance.

Save up to 20% with bundles*.
LED light therapy

From $50

Microdermabrasion

From $110

Medi-peels
From $120

Galvanic facial
From $140
*Terms and conditions

All offers/packages subject to availability, non-transferrable and cannot be used in conjunction with any other offer, discount, or package. All offers payable in full at the time of the appointment and not redeemable for cash back nor any refunds given for unused portions.

Save 20% on 3 Skin Therapist treatments bundle T&Cs: Purchase a bundle of three skin therapist treatments and save 20% discount on the total cost. This offer is valid exclusively for microdermabrasion, hydrabrasion, and chemical peel treatments, and you can mix and match these treatments. This bundle discount cannot be combined with any other offer, discount, or package. The full payment for the bundle must be made at the time of your first appointment. No refunds or cash back will be given for unused portions of the treatments.

$50 credit T&Cs: Please present this voucher at your appointment to redeem. Offer valid for new cosmetic patients only and not in conjunction with any other offer, discount, or package. Offer excludes skincare and cosmetic injectables. One-time use only.
Frequently asked questions
How long do anti-wrinkle injections last?

The effects of anti-wrinkle injections will last for up to six months, depending on the site. The more often you undergo anti-wrinkle injections the less often you will need them. Over time, the wrinkles will dissipate and the interval between treatments will lengthen.
What does dermal filler do and how long does it last?

If you have hollowness in your cheeks, under-eyes, chin or jaw, it could be a result of lost tissue and fat volume. Dermal fillers, which are made from naturally occurring substances found in the human body, help to replace that lost volume. Dermal fillers are strictly administered by medical professionals in our centre who achieve great results in restoring a more youthful appearance to your face and enhancing your natural features.

Depending on the product used, dermal fillers usually last between 6-12 months, extending up to 18 months with more robust products. Regular maintenance treatments can help prolong the results of your dermal fillers and lengthen the time required between treatments.
How long do anti-wrinkle injections take to work?

You will start to see improvement within 2-3 days, with maximum full effect 10 – 14 days after treatment.
Where can I find a skin cancer clinic in Perth?

Conveniently located between the St John Of God Hospital and Bob Hawke Oval, Al Nour Skin Centre in West Leederville is just 10 minutes from the Perth CBD. Parking is available on the street. If you arrive by car, entry via McCourt Street is best. If you're taking public transport, the nearest bus stop is just up the road at Cambridge St Before McCourt St.
What does Stage 1 skin cancer look like?

Early melanomas are usually very small (less than 1mm) and have not yet spread to other areas of the body such as the lymph nodes or other organs. Melanoma typically stands out as looking different from the rest of the lesions on your skin and often shows one of the ABCD signs: Asymmetry, irregular Border, multiple Colours, or Diameter larger than 6mm.
Book an appointment at Al Nour Skin Centre

WE KNOW SKIN
Medical and aesthetic skin concerns addressed by certified skin experts.

WE KEEP YOU SAFE
Expert consultations and safe treatments delivered in a medical facility.

WE DELVE DEEPER
Comprehensive approach to overall skin health and personalised treatments.

WE ACHIEVE RESULTS
Patient-centred focus to achieve healthy, beautiful skin and natural results.
Our clinic uses HotDoc for online bookings and SMS reminders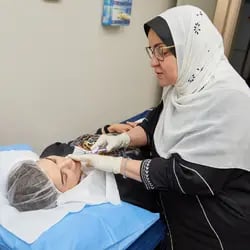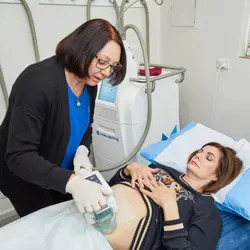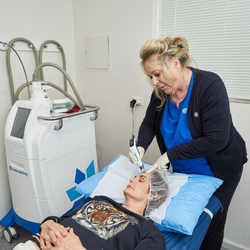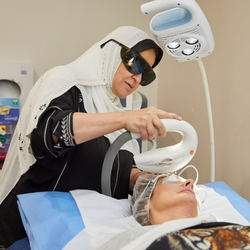 NOT THE CLINIC YOU ARE LOOKING FOR?