Skin cancer & cosmetic clinics in Melbourne & around Victoria
Melanoma diagnoses in Victoria reach up to 30 per cent above the national average. Our skin cancer clinics in Berwick and Officer can help you with skin cancer checks, melanoma screening, total body photography*, surgical and non-surgical skin cancer treatments, and wound and scar management.
At our skin cancer and cosmetic clinic in Officer, our medical team also provides cosmetic injectables and targeted skin treatments to address ageing, sun damage, acne, rosacea, and more.
*Services available in select locations.
Our skin cancer clinics in Berwick and Officer in Melbourne (Victoria)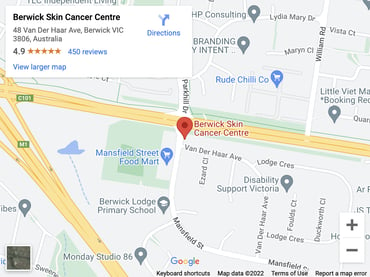 Berwick Skin Cancer Centre
Address
48 Van Der Haar Avenue
Berwick, VIC 3806

Phone
03 9769 3358

Opening Hours
Monday to Friday: 9.00am - 6.00pm
Saturday appointments available.
Go To Clinic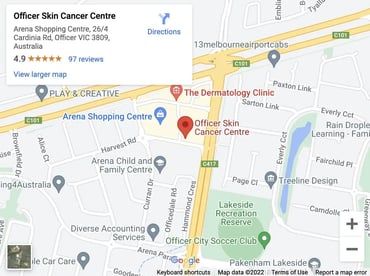 Officer Skin Cancer Centre
Address
Arena Shopping Centre
26/4 Cardinia Rd
Officer, VIC 3809

Phone
03 5940 5006

Opening Hours
Monday to Friday: 9.00am - 6.00pm
Go To Clinic
Services at our skin cancer clinics in Melbourne Victoria
Services in our cosmetic clinic in Officer
Where our patients are from
Patients visit us from all over Victoria, including Berwick, Beaconsfield, Fountain Gate, Narre Warren, Harkaway, Guys Hill, Hampton Park, Officer, Hallam, Lynbrook and surrounds. Our local Melbourne doctors are accessible in one convenient location to save you time and make it easier for you to prioritise your skin health.
Frequently Asked Questions
Why are skin cancer checks important in Melbourne and around Victoria?

Melanoma diagnoses in Victoria reach up to 30 per cent above the national average. Early detection provides the best chances of successful treatment.

Getting your skin checked regularly by a qualified medical professional is vital at least once a year or every few months if you are at high risk or have already been diagnosed with skin cancer. A routine self-examination is also an excellent way to keep track of your skin between skin checks, but it should not be relied upon to catch everything as skin cancer is often invisible to the naked eye.

The doctors with special training in skin cancer at our clinics in Melbourne and around Victoria will thoroughly examine your skin, looking for moles, freckles, bumps, or any other signs of skin cancer.
Am I at risk of skin cancer?

Australia is the skin cancer capital of the world, with over one million skin cancers treated yearly - more than 100 every hour! People living in Melbourne may be at even higher risk if they:

● Have had skin cancer before
● Have a family history of melanoma
● Have lots of moles
● Have fair skin or fair hair
● Have blue or green eyes
● Are aged over 40
● Work outdoors or regularly enjoy outdoor activities
● Have ever been severely sunburnt
● Have ever used a solarium (tanning bed)
● Are male
What are the types of skin cancer?

Basal cell carcinoma (BCC)

The most common form of skin cancer but the least dangerous. The disease usually occurs on the upper body, head, and neck. Symptoms include lumps or dry, scaly areas. Basal cell carcinoma can be red, pale or pearly in colour. In time, it may become ulcerated or appear like an unhealed sore.

Squamous cell carcinoma (SCC)

It is not as dangerous as melanoma, but it can spread to other parts of the body if left untreated. Over several months, it grows on sun-exposed skin. It can look like a thickened, red, scaly spot that bleeds easily, crusts or ulcerates.

Melanoma

A very dangerous form of skin cancer that claims one life every five hours in Australia. It often appears as a skin lesion that is different from the other lesions on your body, with irregular borders and multiple colours, but some melanomas are invisible or show no signs at all.
What are skin checks?

It takes between 15 and 30 minutes to perform a skin cancer check in Melbourne and Victoria. Our doctors with advanced training in skin cancer will examine your head, face, neck, torso, legs, feet, toes, arms, hands, and fingers. You will be required to undress to your underwear, and a gown or blanket can be provided for your comfort.

Skin cancers can develop anywhere on the body, so you should inform your doctor if you notice any suspicious spots under your underwear. Genital areas are not routinely examined; skin cancers can develop anywhere. The doctor will only check these areas if you request them.
How often should I get my skin checked?

You may need regular follow-up skin cancer checks in Melbourne and Victoria if you have a high risk of skin cancer.

A follow-up skin check may be performed every few months to once or twice a year. You will receive regular skin check reminders, but keeping your own records is a good idea.
How can a doctor with advanced skin cancer training help me?

Our skin clinics are designed for examining, diagnosing and treating skin cancer, all in one location. About 99 per cent of skin cancers are curable if detected and treated early.

A regular skin cancer check is your best defence against complex surgeries, costly procedures, and even death. Our doctors have a wealth of experience, skills and recognised certifications in skin cancer care and utilise the latest skin cancer detection and treatment tools.
Improve access to skin cancer care and reduce the mortality of the disease.
Reduce waiting times for patients to receive efficient diagnosis and treatment.
Provide vital skin cancer care to communities with limited access to specialists.
Save lives and improve outcomes by reducing delay in diagnosis and treatment.
Relieve the public hospital system by providing affordable quality care.
Offer referral option for GPs managing patients outside their scope.