Target pigmentation, improve skin texture, enhance cell turnover, and help your skin glow.
Nano-needling uses shallow-depth needles to gently treat delicate areas of the face where skin microneedling can't go, such as the eye contour - making nano-needling ideal for treating pigmentation, improving skin texture, enhancing cell turnover, and sustaining skin hydration for a brighter glow in those hard-to-treat areas that require a gentle touch.
Nano-needling is ideal for:
Targeting delicate eye areas
Erasing fine lines and crows feet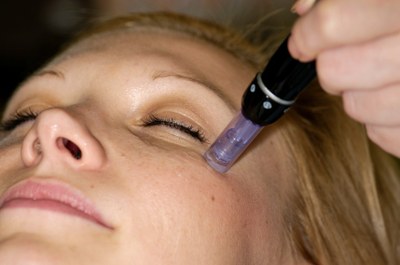 Benefits of nano-needling for your skin

Target delicate areas
around the eyes
Since nano-needling penetrates at a shallow depth, the treatment is ideal for those hard-to-treat delicate areas of the face such as the eye contour.

No pain or downtime
Unlike microneedling, nano-needling does not require downtime. The gentle treatment is painless and requires no numbing cream, and you won't experience any redness or swelling!

Brighter, bolder skin
Enjoy bright and glowing skin free from pigmentation, fine lines, or poor texture. Nano-needling helps to infuse hydration and increase cell turnover for a healthier-looking complexion.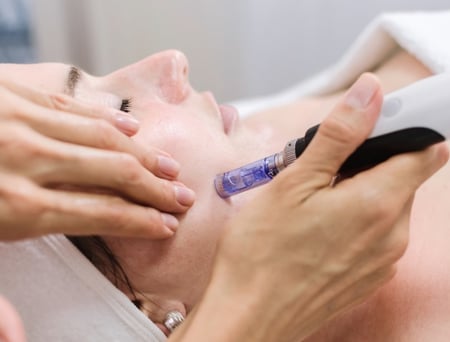 How does nano-needling work?
Nano-needling is a gentler, less invasive version of the popular skin microneedling treatment. The needles penetrate at a shallower depth and are therefore suitable for more delicate areas such as around the eyes. Softly penetrating the surface layer of the skin with tiny needles stimulates collagen renewal and helps induce a natural healing effect that leaves skin feeling and looking softer, smoother and healthier. The gentle nano-needling procedure takes around 30 minutes and is painless.
Nano-needling is not suitable for anyone with an untreated skin cancer on the treatment area, or any patient on high-dose corticosteroids.
Avoid strong skin treatments like retinol and peels.
Nano-needling is a minimally invasive treatment.
All nano-needling device cartridges utilise disposable needle tips, so there are no risks of cross contamination or infection. The skin is thoroughly cleansed with an antiseptic prior to the needling procedure.
Nano-needling is suitable for almost all skin types, and is non-ablative.
Your dermal clinician may advise antiviral or antibiotic prophylaxis if you are prone to cold sores, staph infections, or have any associated medical conditions.
Each session takes about 30 minutes.
We give our patients the option to recover under our LED device, which hastens recovery and improves skin collagen.
What you do after your treatment and how you take care of your skin is very important.
Use the suggested aftercare products for at least two days.
Avoid strong treatments like peels or retinol for at least two weeks.
Use sunscreen every day.
Before and after results from nano-needling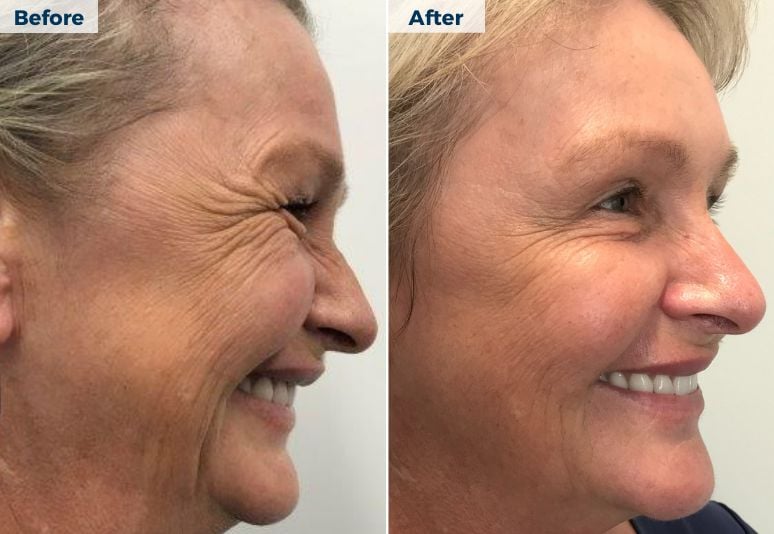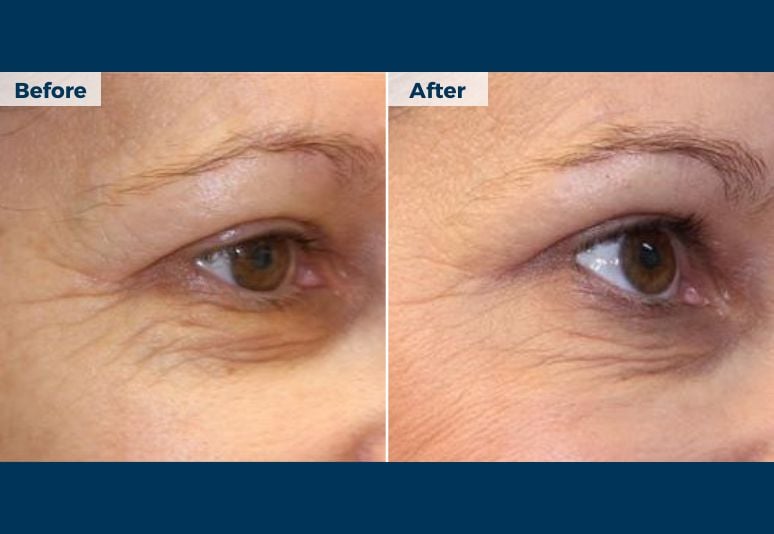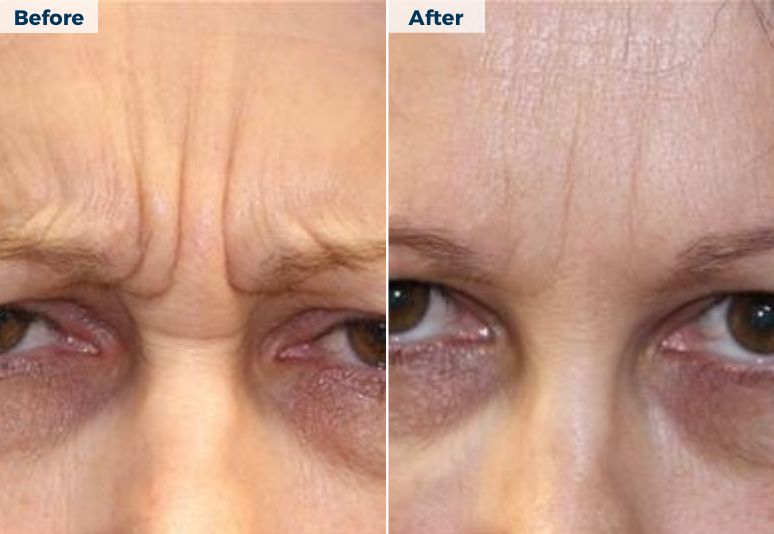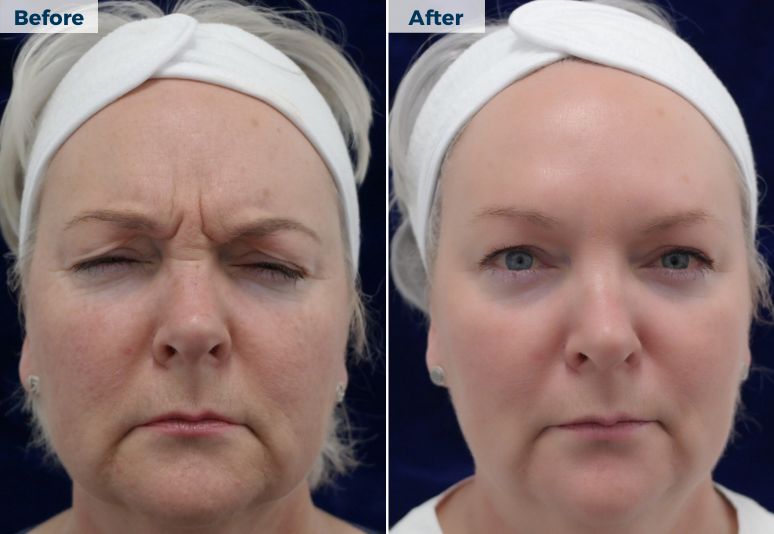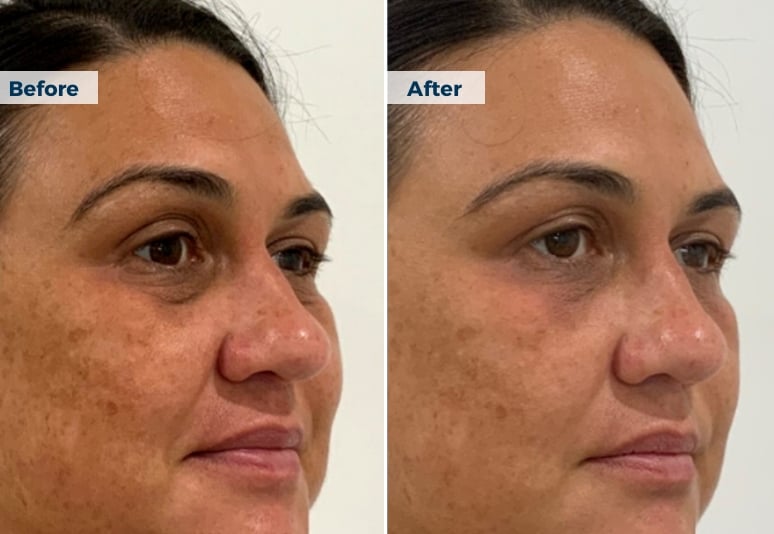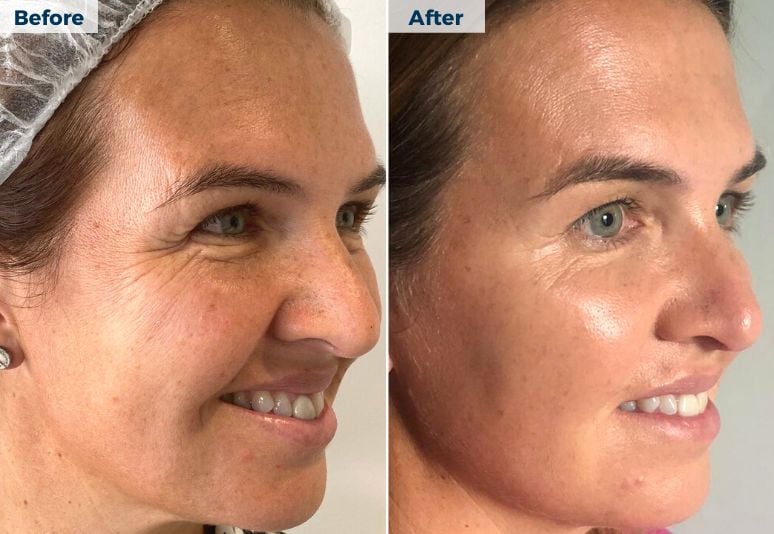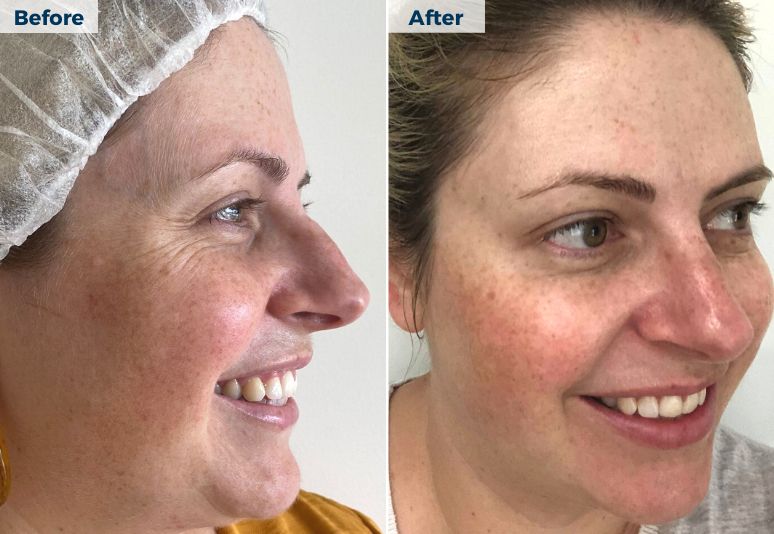 Frequently asked questions
What is the nano-needling device?

Skin nano-needling utilises a medical device which perforates the skin using multiple sterile needles which vertically pierce the top layer of skin in a vibrating manner. As the device glides over the area being treated, thousands of tiny punctures are created on the skin's surface, opening up pores and allowing for better absorption of topical treatments. The device uses shorter needles than the skin microneedling procedure so that they penetrate to a shallower level, which makes nano-needling gentler and more suitable for delicate areas.
What are the side effects of nano-needling?

While you might have some minor skin irritation following nano-needling (which is necessary for the rejuvenation effects to be stimulated), there should be very little redness or discomfort. Nano-needling is a very safe skin treatment with no downtime.
When will I see results from nano-needling?

After a nano-needling treatment, your body will naturally start to regenerate and repair the skin, working below the surface. This means new collagen and elastin is formed, blood supply is enhanced, and new skin cells are regenerated. It usually takes up to six weeks before any visible signs of repair are seen, and this will continue over the following months.
Is nano-needling safe for older skin?

Yes, nano-needling is safe and effective in skin of all ages. Because it is so gentle, it can be used on delicate or thinning skin, too!
What is the difference between skin microneedling and nano-needling?

Nano-needling uses shorter needles to penetrate the skin, which means the treatment reaches to a shallower level. Therefore, it can be used to treat areas with thin or delicate skin like the eye contour.

Nano-needling can target areas that skin needling cannot be used - but because nano-needling is a gentler treatment, the results are not as strong as with traditional skin needling.