Stimulate collagen for improved skin quality, structure and elasticity, for tighter and more contoured skin.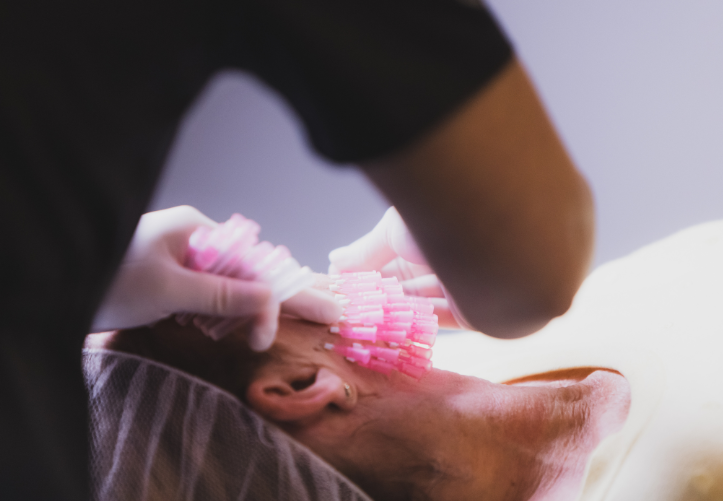 Enhance your skin quality, structure & elasticity
Target lax, crepey skin on your face and stimulate collagen turnover. PDO threads are ideal for smoothing skin around the cheeks, neck, jowls, crow's feet, tear-troughs, and peri-oral areas to undo the effects of gravity, with minimal downtime compared to surgery.
PDO threads are ideal for:
Restore the contour of the cheeks

Reshape nasolabial folds and jowls

Re-establish a natural and youthful facial shape

Re-establish a stronger jawline

Stimulate collagen turnover for healthier, more youthful-looking skin

Addressing fine lines and texture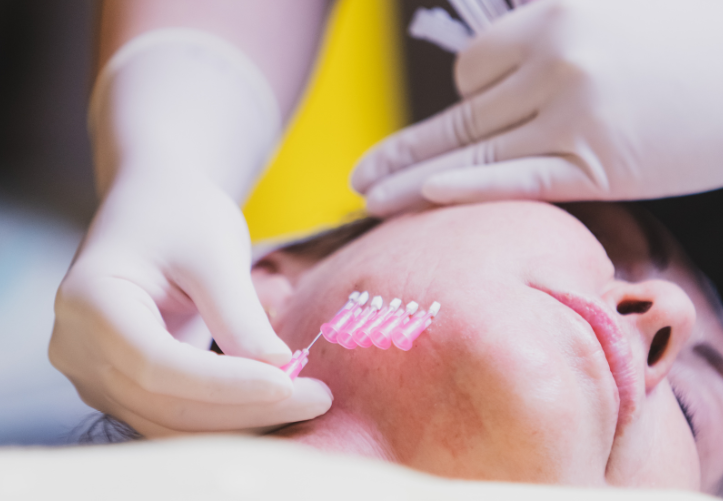 Benefits of PDO threads for your skin

Undo the effects of gravity
PDO threads enhance your natural face shape, treat laxity and target problem areas like the cheeks, jowls and neck.

Stimulate collagen renewal
Promote the turnover of collagen which gives skin its firmness, structure and elasticity - with long-lasting results improving for weeks after treatment.

No scalpels or surgery
Restore a youthful look with a minimally invasive PDO thread procedure that is cheaper, faster and more convenient than surgery, with less downtime.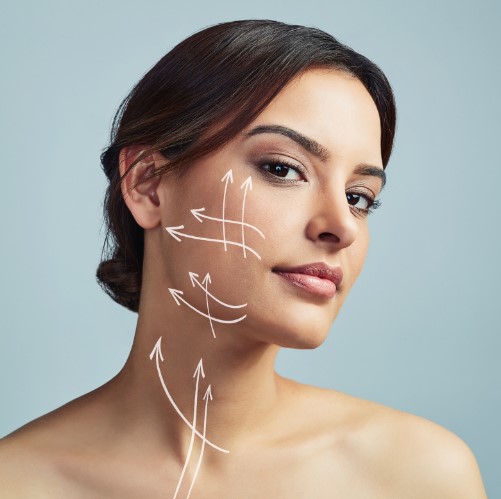 PDO is a synthetic absorbable surgical suture composed of polydioxanone. The threads are placed strategically under the skin at the corner of the mouth and along the brows to stimulate collagen, which gives skin its structure and elasticity. PDO threads are non-anchoring.
The procedure is performed with the aid of a topical numbing cream so that fine threads can be placed under the skin using special needles. Once the threads are in place, they stimulate collagen production around them, with further improvement seen over the following months. The number of threads used and the exact placement site depends on patient's needs and facial structure.
The entire treatment is scalpel-free and takes less than an hour, and the recovery time is minimal, with low risk for scarring and bruising. There is no discomfort.
Available at Victoria Point (QLD), Birtinya (QLD), Townsville (QLD) and Terrigal (NSW) clinics.
Following pre and post-treatment care guidelines will help optimise your results. Our Skin Therapists will walk you through any contraindications or side-effects that might affect you.
Some patients are not suitable for HIFU Eclip Therapy. The treatment should be avoided if:
- You have aesthetic threads, implants or recent dermal fillers in the treatment area.
- You are pregnant.
- You have open wounds or lesions on the treatment area.
- You have cystic acne.
- You have a pacemaker or electronic device implants in the treatment area.
If you have a history of cold sores, preventative oral antiviral tablets are recommended before and after treatment.
HIFU is considered very safe if performed by a trained and qualified professional. Some side effects may include:
- Slight redness or swelling
- Light tingling sensation of the treated area
- Treated area may appear flushed/red
- Temporary numbness or bruising (rarely)
HIFU Eclip Therapy is usually well tolerated and you can resume your normal activities immediately after the treatment. A small amount of mineral make up is okay to apply. Avoid saunas, steam baths and exercise for 24 hours after treatment. Apply broad-spectrum sunscreen for a week after treatment.
Before and after results from PDO threads
Frequently asked questions
What are the possible side effects or disadvantages of PDO threads?

As with any other procedure, side effects are far less encountered when the PDO threads procedure is performed by an experienced clinician and when patients adhere to before- and after-care instructions. However, some patients experience:

- Bruising and swelling

- Skin puckering and dimpling

- Infection

- Thread breakage and migration (very rare with newer threads and good technique)

The usual recovery period following the PDO thread procedure is 5-7 days.
How long does the PDO thread treatment take?

The PDO thread procedure takes 45-60 minutes. It is performed with a topical numbing cream and is minimally invasive.
How many threads are used in a PDO thread procedure?

The type of threads used, their number and placement site vary depending on facial structure and individual concerns.
How can I optimise my results after PDO threads?

To optimise outcomes, alternative treatments may be advised in addition to the PDO thread procedure, such as dermal fillers or double chin treatment.
How painful are PDO threads?

You will not feel any pain because local anaesthetic is used. You may experience some soreness during healing.