Clear active acne, refine congested pores, prevent breakouts and restore your skin health.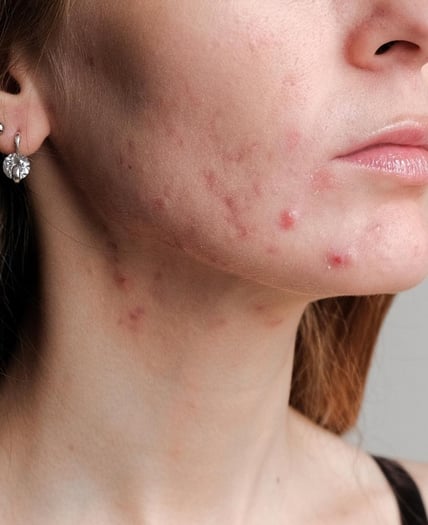 Effective treatments for clearer skin
We can help manage symptoms of acne, oily skin and clogged pores with a tailored treatment plan. Acne can affect anyone, regardless of age, race or gender. In fact, around 80 per cent of people have acne at some stage in their lives. It can develop as clogged pores, blackheads, whiteheads, oily skin, blemishes, or cystic acne, and can leave scars.

Acne affects more than just your skin – it can impact the entire life and become a detriment to confidence, self-esteem, and general outlook on life. Medical-based treatments are available that can help to remedy the cause of acne and ease the symptoms, to achieve clearer, healthier skin.
Acne treatments are ideal for:
What is the cause of acne?
There are several factors that can contribute to acne-prone skin, acne breakouts, and associated conditions such as blackheads, but the underlying cause is excessive oil production. Acne occurs when sebaceous glands produce excess oil, which plugs the pores and results in skin oiliness, pustules and more. When seeking acne treatment, it is important to work with your clinician to identify the cause of your acne so that a tailored treatment plan can be developed that specifically targets your concerns.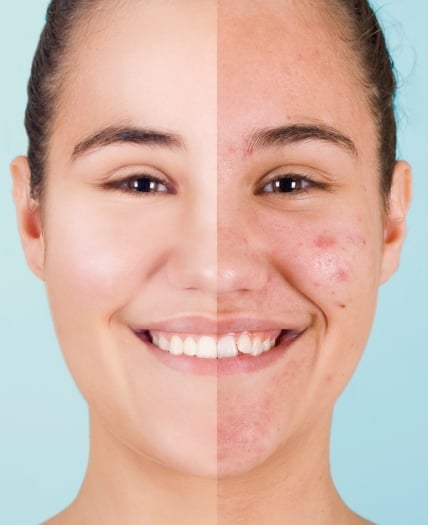 Recommended acne treatments
Depending on the severity and stage of the condition, our medical team can help develop individual skin treatment plans to target the causes and symptoms of acne. Acne treatments may include LED light therapy, skin needling, microdermabrasion, medi-aesthetic peels, and more.

Our acne treatment protocol involves a step-by-step graduated process that begins with a review of your lifestyle and diet to determine the cause of your acne, skin oiliness, or other related skin condition.
Our medical team will review your skin every six weeks during your treatment, which focuses on skin cleansing, LED light therapy, and specific topical therapies tailored to your needs and skin type.
Depending on the severity and stage of your acne, we develop individual treatment plans which may include microdermabrasion (which produces an immediate short-term result as clogged pores are cleansed and skin is repaired), LED light therapy (which soothes and heals the skin to eliminate symptoms of active acne as well as blackheads and acne scarring) and medi-aesthetic peels (which improve the quality of the skin's upper layers by inducing a healing effect as damaged layers of skin are replaced by healthy ones).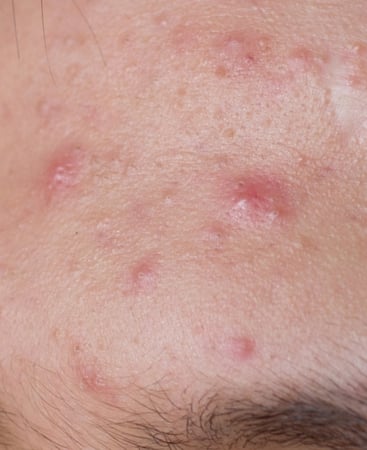 Before getting acne treatments, make sure you inform your doctor:
Keep skin free of makeup on the day of your treatment.
If you have an active acne flare-up on the day of your treatment, you may need to reschedule to avoid further irritating the acne.
After each in-clinic treatment, it is important to avoid sun exposure, active skincare ingredients and swimming in water treated with chemicals for 48 hours.
Complete the prescribed at-home treatment plan.
Always wear sunscreen, protective clothing such as a hat, and limit sun exposure.
When cleansing, do not scrub and use a gentle cleanser.
Do not peel, pick or scratch the treated area as this may result in scarring.
Pricing upon consultation. Please enquire at your preferred clinic location for a customised quote tailored to your specific skin needs and goals.
We offer complimentary consultations, bundle savings, and AfterPay* options for your convenience.

*At select clinics.
Frequently asked questions
How long will it take to clear my acne?

Treating acne and achieving clear skin can take some time, as no treatment offers a "quick fix". Your results will depend on the severity and cause of your acne and the treatments we are able to use on your skin.

If you don't see results after a few months, we can implement more intensive therapies and try different approaches to help you.
Can I still wear makeup while treating acne?

Your clinician will advise how to take care of your skin - including a skincare routine and advice about makeup - during your consultation for your acne. It is best to wear mineral makeup if you have active acne or sensitive skin, and be sure to properly remove it every time. Avoid sweating while wearing makeup and choose a product that suits your acne-prone skin type. Our clinicians are pleased to help you with this.
Why is my acne getting worse?

Acne is caused by a variety of factors, including pollutants in the environment, hormonal changes (including pregnancy and menstruation), and using incorrect skincare products on your skin. An exacerbation of these factors can increase sebum production, leading to active acne breakouts.

It's important to identify the cause of your acne before embarking on a treatment regime.
Book an appointment for anti-wrinkle injections at a clinic near you