Smooth the appearance of wrinkles, frown lines, forehead lines, bunny lines, crow's feet and more.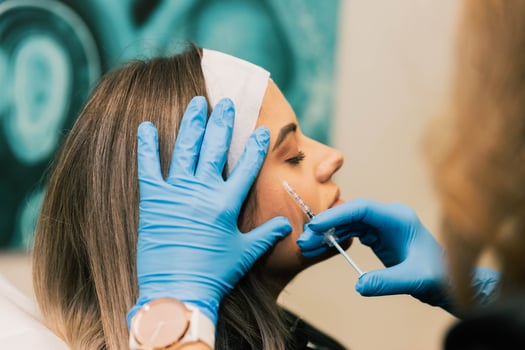 Stay naturally beautiful at any age
Anti-wrinkle injections (or muscle relaxant injections) are one of the main advances in the treatment of the ageing face. Anti-wrinkle injections are used for a broad range of aesthetic conditions, most notably to treat and prevent wrinkles.

We always aim to achieve a natural, refreshed look with injectables - not only improving current lines and wrinkles but also working to prevent them in the future.
Anti-wrinkle injections are ideal for:
Wrinkles on the décolletage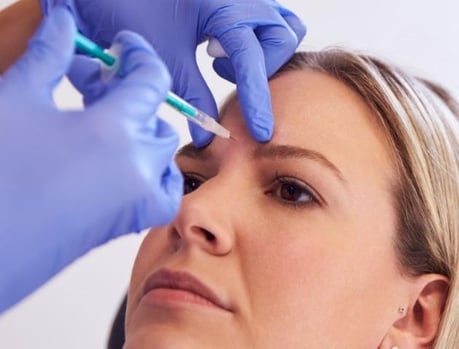 Benefits of anti-wrinkle injections

Refresh, repair and rejuvenate
Anti-wrinkle injections eliminate lines, wrinkles and dimpling in the face, neck, décolletage, and hands, shaving years off your appearance.

Treat and prevent
Cosmetic injectables repair current skin concerns while working to prevent or delay further problems in the future, so you can maintain a refreshed and more youthful look for longer.

Address the ageing face
Find a quick, effective and minimally invasive solution for ageing concerns, helping you to achieve a more youthful look free from common signs of ageing, such as crow's feet and bunny lines.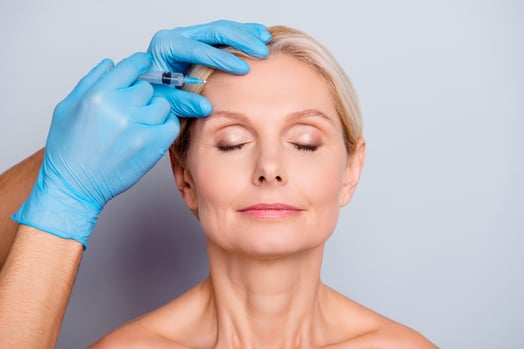 How do anti-wrinkle injections work?
Wrinkles and lines on the face, neck and décolletage can be caused by repeated muscle movements under the skin, like smiling or frowning. Anti-wrinkle injections use a neurotoxin to interrupt the signal between the nerve and muscle, helping to stabilise and immobilise the muscles and reduce their contractions. This makes anti-wrinkle injections an ideal treatment for lifting the face, smoothing wrinkles, and leaving you looking and feeling younger and fresher!
Wrinkles are a normal part of ageing, as our skin loses its collagen and elasticity. Our skin gets thinner, drier, and less elastic as we age, and it loses its natural ability to protect itself from environmental and lifestyle factors including pollutants, diet, smoking, stress, and more - which means wrinkles, creases, and lines eventually form on our skin.

Facial wrinkles are also caused by continuous muscle contraction and muscle movement. Repeated movements through facial expressions (particularly smiling and frowning) cause dynamic wrinkles which only appear when the muscle is actively used. If left untreated, these dynamic wrinkles can become static over time, which means they become permanent.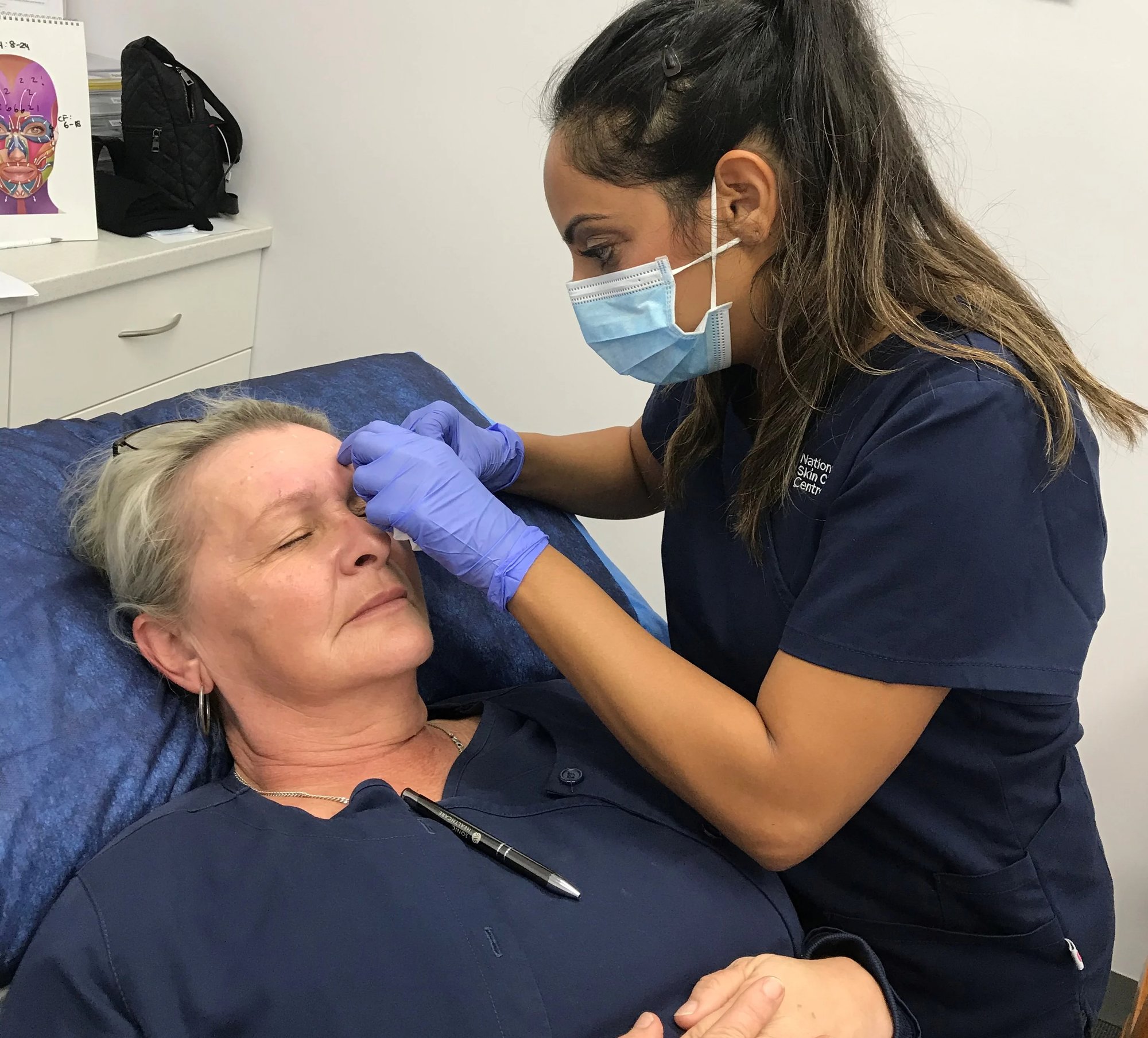 Before getting anti-wrinkle injections, make sure you inform your doctor:
If you are pregnant or plan to become pregnant, or if you are breastfeeding.
If you are taking any medications, especially antibiotic by injection, muscle relaxants, allergy or cold medicine, or sleep medicine.
If you have had any problems with similar injections in the past.
If you suffer from any type of bleeding disorders (haemorrhagic problems) or if you are taking substances that prevent blood from clotting (anti-coagulant medication).
If you suffer from any disease that disturbs the interaction between the nerves and the skeletal muscles (peripheral neuromuscular dysfunction).
If you have kidney, liver, or heart problems, breathing difficulties, or eye disorders.
If you suffer from a pronounced muscular weakness or decreased muscle volume in the muscle where you will receive the injection.
If you have any swallowing difficulties.
If you are due to have surgery or have had previous facial surgery
What you do after your treatment and how you take care of your skin is very important.
Don't touch the injected sites.
Avoid strenuous activity, saunas and humid environments for 24 hours.
Avoid rubbing and massaging the treated area for four hours to avoid spreading the toxin to other muscles.
Do not get facials, chemical peels and microdermabrasion for 24 hours.
Use topical arnica and yellow or green concealers to treat and cover up bruises.
Following pre- and post-treatment care guidelines will help optimise your results. Your clinician will walk you through any contraindications or side-effects that might impact you. The below list includes common and rare side effects that may be serious and may require immediate medical attention. Serious side effects are rare.
Common (arising in 1-10% of patients): headache.
Uncommon (arising in 0.1-1% of patients): injection site pain, haematoma, sensation of heaviness, facial paresis (brow ptosis), eyelid oedema, pruritus.
Rare (arising in 0.01-0.1% of patients): influenza-like illness, tenderness, muscle spasms, vision blurred, eyelid ptosis, nasopharyngitis.
Please give us a call and seek immediate emergency treatment if:
You develop swallowing, speech or breathing difficulties.
You have an allergic reaction which may lead to swelling of hands, feet or ankles, or difficulty swallowing, speaking or breathing.
You have exaggerated muscle weakness.
Pricing upon consultation. Please enquire at your preferred clinic location for a customised quote tailored to your specific skin needs and goals.
We offer complimentary consultations, bundle savings, and AfterPay options for your convenience.
Frequently asked questions
What should I be aware of before receiving anti-wrinkle injections?

It takes at least three to five days for the effects of anti-wrinkle injections to occur, and the maximal effect is often achieved after 10 to 14 days. The procedure takes no more than 15 minutes.

It is advisable that you do not lie flat for eight hours post-injections. The treated area should not be massaged or exposed to heat and you should not bend over to pick up heavy objects for 48 hours after the procedure.
Do anti-wrinkle injections hurt?

There is little pain during anti-wrinkle injections and minimal bruising afterwards. We can apply a topical anaesthetic to the treatment area to help numb your skin if you are particularly sensitive to needles. We also provide stress balls and apply cooling aids such as ice packs and fans during the treatment to keep you cool and soothed. Our treatment rooms are comfortable and restful, with calming music for your relaxation. Our dermal clinicians are fully qualified and very experienced in ensuring you are well looked after with minimal discomfort.
Who will perform the treatment?

Anti-wrinkle injections are strictly delivered by our experienced team of dermal clinicians, including Aesthetic Doctors and degree-certified Aesthetic Nurses and Dermal Therapists. Our team hold certifications specifically focused in aesthetic medicine and are very experienced in delivering these treatments, with patient safety and expectations as our top priority. As your treatment is delivered in a medical facility, we can address any unlikely complications that may arise.
How long do the effects of anti-wrinkle injections last?

The effects of anti-wrinkle injections will last for up to six months, depending on the injection site. The more often you undergo anti-wrinkle injections the less often you will need them, because over time, the wrinkles will dissipate and the interval between treatments will lengthen. Usually, wrinkles can be kept at bay through maintenance treatments every six to 12 months.
What injections are best for wrinkles?

Anti-wrinkle injections are the best cosmetic injectables for treating wrinkles and lines on the skin.
Are anti wrinkle injections worth it?

Anti-wrinkle injections are beneficial for treating a broad range of aesthetic conditions such as ageing, wrinkles, and lines. It is a very effective treatment providing long-term results with a less invasive technique than some other cosmetic treatments. When performed by a skilled clinician, anti-wrinkle injections can help you to achieve a natural, refreshed look and not only reduce the appearance of current lines and wrinkles but also work to prevent them in the future.
Book an appointment for anti-wrinkle injections at a clinic near you