What's the difference between skin checks and total body photography?
Regular assessments of moles and skin spots are essential for the early detection of skin cancer, including potentially deadly melanomas. If caught in their early stages, skin cancers can be successfully treated before they spread into other parts of the body or surrounding tissue. That's why skin cancer checks are so important!
We are often asked about the difference between a skin check and total body photography. Let's explore.
What is a skin check?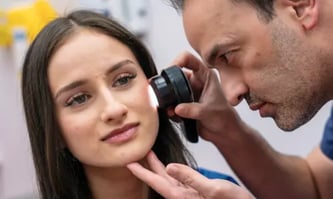 A skin check is a full-body examination and assessment of your skin from head to toe, conducted manually by a doctor with advanced training in skin cancer detection. The doctor uses a small handheld tool called a dermatoscope to painlessly inspect every lesion on your skin for signs of malignancies.
The doctor may take individual photos or biopsies of suspicious moles, and they will discuss your skin cancer management plan with you – including your follow-up schedule or skin cancer prevention strategies. Read more about skin checks.
Watch a video explaining the step-by-step skin check process.
What is total body photography?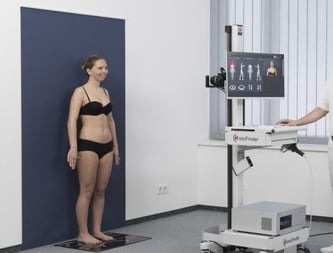 Total body photography involves using our revolutionary state-of-the-art FotoFinder skin imaging system to take a series of hi-res digital images of your entire skin surface.
This technology is used to assist with the earliest detection of the smallest lesions on your body over time. The system speeds up the process of comparing and evaluating lesions by automatically comparing all follow-up photos with the corresponding baseline images to identify new and changing moles. These moles are quickly marked for follow-up evaluation by the doctor.
Total body photography is performed in addition to a head-to-toe skin check by the doctor.
Full-body imaging accurately tracks changes over time as the images allow easy side-by-side comparison at follow-up appointments.
With sophisticated software and superior expertise working together for exceptional accuracy, total body photography reveals the subtlest skin changes and helps detect skin cancer at its earliest stage when it is most manageable and requires least invasive treatment.
How do you know if you should book a skin check, total body photography, or both?
All patients should get a comprehensive full-body skin cancer check with the doctor every 12 months (or more frequently if you are at high risk of skin cancer). Total body photography is an additional service provided to patients whose doctor has recommended it because you are at high risk.
If you are unsure whether total body photography is right for you, please discuss it with your doctor during your skin check.
Want to learn more about skin exams and total body skin imaging?
If you are still uncertain as to whether you require a skin check and/or total body photography, or if you have any questions regarding skin cancer screenings, please call us and we will be glad to assist you.