Are sun beds a safe alternative for a winter tan?
With winter in full swing, your skin may be lacking its usual tan. But did you know that solariums and sun beds are not a safe way to get that summer glow?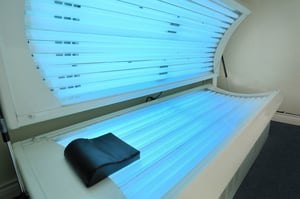 Many people don't know that sun beds release ultraviolet (UV) radiation just like the sun. UV radiation permanently damages skin cells with just short periods of unprotected exposure, leading to skin concerns in the future such as uneven pigmentation, wrinkles, age spots and skin cancer.
Two in three Australians will get skin cancer by the age of 70, so it's important we take steps to protect ourselves from the deadly disease.
The UV radiation emitted by sun beds is up to six times stronger than the UV radiation from the midday summer sun. Commercial solariums are banned in Australia.
If you use a sun bed before age 35, your risk of developing melanoma increases by 59 per cent.
If having a tan is important to you, the only safe option is a fake tan using sprays, creams or lotions. But remember, even if your tanning product, makeup or moisturiser contains a sun protection factor (SPF), you still need to apply additional sunscreen every two hours if you're going outdoors for an extended period of time.