Australians Pick Smartphones Over Sunscreen
What is the first thing you pack when you are heading to the beach? A towel? Your bathing suit? Perhaps some sunscreen and a hat? A survey has found that beachgoers actually choose their smartphones as the number one item to take to the beach.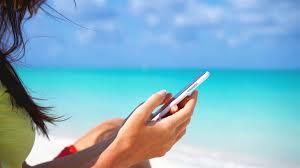 The research found that 14 percent of Australians prioritise their smartphone over all other items, including sunscreen, water, a towel or hat.
The most tech-obsessed respondents were those aged under 22, with a 36 percent choosing their smartphones first.
Around 2.7 million Australians get sunburnt on summer weekends, largely due to being unprepared for being in the sun. People commonly report being accidentally sunburnt while swimming, gardening or exercising because they do not prepare for high UV levels.
Two in three Australians will be diagnosed with skin cancer by the age of 70. The majority of skin cancers developing later in life are a result of sun exposure in our younger years. So, while we prioritise our smartphones more than ever, sunscreen should be our number one priority.
Research from the Cancer Council also shows that even when Australians take sunscreen to the beach, 85 percent of them don't know how to apply it properly. Click here to learn more about the proper application of sunscreen.