Parents Slack On Sun Safety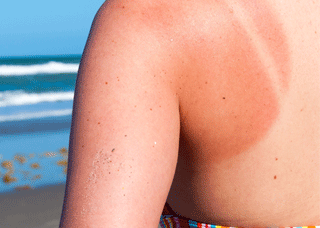 Parents have a 'worryingly relaxed' attitude to sun safety and neglect to protect their children from skin cancer, according to data from a UK survey.
The Met Office and NHS England conducted a survey of 1,000 parents and found that seven percent had never applied sunscreen to their children, while four percent said their child had been sunburned so severely they had been admitted to hospital.
A quarter of parents encouraged their children under the age of 11 to get a tan, with more than a third believing that suntans are a sign of good health. Seven percent of parents had even allowed their youngsters to use a UV tanning machine.
The Met Office said, "Sunburn in childhood has been strongly linked to the development of skin cancer in later years. [There is] a lack of knowledge among parents of the damage the sun can inflict".
More than 20 percent of parents with children aged 11 and under said they waited until their child starts to visibly burn before they apply any sunscreen, and the same number said they wait for their child to request it. Twenty-three percent of parents also admitted that they expect their child to apply sunscreen themselves once they reach eight years old.Click here for an easy guide to applying sunscreen.
The survey also found that seven percent of parents do not know that UV rays cause sun burn, irreversible sun damage, and skin cancer. Fifteen percent do not know UV rays still effect the skin on cloudy days and 40 percent have never checked the UV forecast.
Clare Nasir, Met Office presenter and meteorologist, said, "Young children can't be expected to apply their own sunscreen – they are unlikely to do it thoroughly, or forgo it completely. Protecting against skin cancer isn't something parents should leave to chance."
Children's skin is much more sensitive than adult's, and damage caused by repeated sun exposure could lead to the later development of skin cancer. The Met Office advises that young children should not be exposed to direct sunlight and that everyone should wear sunscreen, no matter their age.
Source:
Neal, C. (27 June 2017.) Parents have a 'worryingly relaxed' attitude to sun safety despite skin cancer risk, Met Office and NHS research finds. Get Surrey. Accessed at www.getsurrey.co.uk