Patient safety is vital in cosmetic procedures
There are some medical risks associated with cosmetic procedures which is why procedures such as dermal fillers and anti-wrinkle injections should always be conducted by a qualified doctor. However, few guidelines exist to protect Australians from 'dodgy' practices offering these procedures in non-certified clinics.
In the UK, a consumer campaign has recently been launched to ensure that people are aware of the risks of cosmetic procedures such as Botulinum toxins, dermal fillers, laser and light treatments.
The campaign encourages anyone considering cosmetic enhancements to ask their clinician a series of questions before undergoing any procedure.
It is important to speak to a professional about what to expect from your procedure, avoid hasty decisions or feeling pressured, and choose a reputable, safe and qualified practitioner to perform any medical or enhancement procedure on your body.
Authorising bodies worldwide are exploring options to strengthen the regulation of cosmetic procedures to improve standards and help people take control and make safe, better informed choices about who they trust with their health and appearance.
This can make a real impact and significantly reduce the number of people who suffer unnecessary adverse events and complications.
At National Skin Repair Centres, we do not provide any injectable treatments unless our patients have undergone a consultation with one of our Aesthetic Doctors. All our clinicians are certified, qualified and experienced in delivering the highest standard in cosmetic procedures for skin rejuvenation and repair.
We can also help to correct poor results patients have received from other clinics.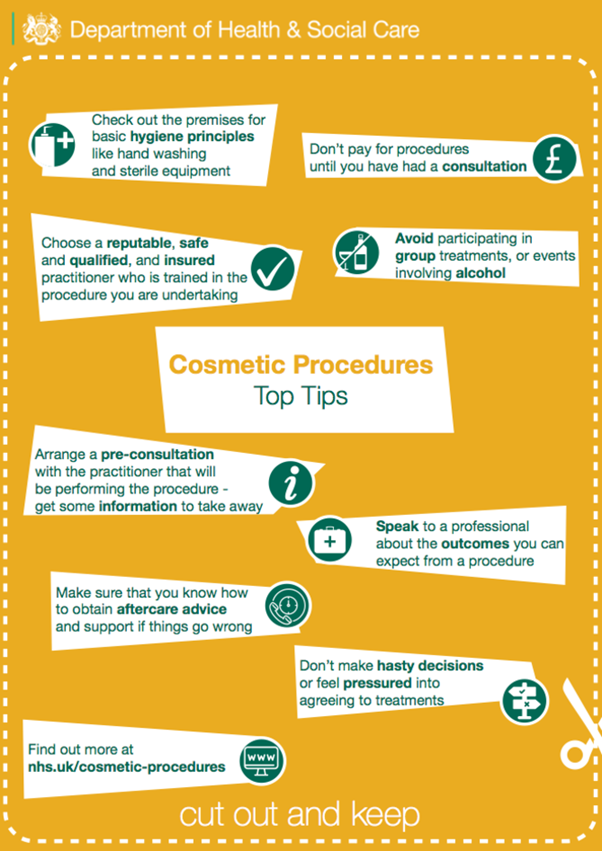 Department of Health & Social Care consumer campaign resource.