9 things to know before getting lip filler
Are you considering lip filler but not sure what to expect? We've answered the nine most common questions our patients ask about dermal filler for the lips, including who should get it, what the treatment involves, and what happens afterwards!
Read on for everything you need to know about lip filler.
1. Is lip filler suitable for me?
When it comes to lip enhancement, everyone is looking for something different! Some people want fuller or more symmetrical lips, others want to fix their smile, while many people hope to erase the lines and wrinkles from around their mouth.
Lip filler is ideal for anyone looking to subtly enhance the shape of thin or asymmetrical lips for a fuller, plumper, more natural-looking smile, with subtle and long-lasting results.
Read another blog on how to avoid "duck lips".
2. What is being injected into my face?
Dermal fillers come in a variety of materials and are used to subtly improve the appearance of the ageing face by smoothing fine lines and wrinkles as well as replacing some of the volume loss that occurs as we lose fat from various parts of our face while we age.
Filling material is sourced from naturally occurring substances found in the human body. They are classified as temporary, semi-permanent or permanent. Our dermal filler products are from reputable companies based in Australia, FDA approved, used extensively in Europe and the USA, and incorporate either hyaluronic acid or calcium hydroxyapatite. The choice of dermal filler depends on the area to be treated, the depth of filling required, the effect desired, and the characteristics individual to each patient's face. We advise a step by step, minimalistic, gradual approach to achieve subtle and beautiful results over time.
3. Who will perform my dermal filler procedure?
Dermal fillers are strictly delivered by our experienced team of dermal clinicians, including Aesthetic Doctors and degree-certified Aesthetic Nurses and Dermal Therapists. Our team hold certifications specifically focused in aesthetic medicine and are very experienced in delivering these treatments, with patient safety and expectations as our top priority. As your treatment is delivered in a medical facility, we can address any unlikely complications that may arise.
4. What risks do I need to know about with lip filler?
The beauty of dermal fillers is that they are derived from naturally-occurring substances in the body, which minimises the risk to you. However, it is still essential to only receive lip filler from a qualified and experienced dermal clinician or doctor who will keep you safe, minimise potential complications, and maximise your results.
However, it is not uncommon to have bruising at injection sites for up to a week following treatment with dermal fillers. This can be alleviated using ice packs and topical arnica. A temporary sensational swelling can last anywhere between 12 hours to three days post-filler treatment. A reversal agent can be used to alleviate swelling. It is our practice to review our patients at two weeks post-treatment for further product placement if desired.
Read another blog on how to avoid complications from cosmetic injectables.
5. What does a lip filler treatment involve?
Before your lip filler treatment, you will need to see one of our dermal clinicians or doctors who will perform a cosmetic skin consultation with you and discuss your cosmetic concerns and the results you hope to achieve with lip filler. We will work with you to tailor a treatment plan that suits your budget, timeframe and desired outcomes, and we will walk you through what to expect from the treatment.
As part of the initial skin consultation, your dermal clinician will take photos of your face and discuss all treatment options regarding dermal fillers individualised to your facial shape, symmetry, skin type and age.
You will come in on another day for the lip filler treatment. We invite all patients to return for a review after two weeks post-treatment in case there is a need for a top up of filler, as we prefer to be conservative in the first treatment to achieve natural results.
Read another blog on how to avoid the over-filled look.
Here are results achieved with some of our beautiful patients!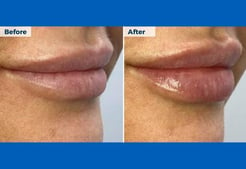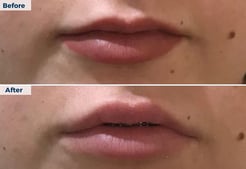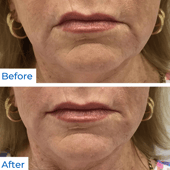 6. Is lip filler painful?
Our team of dermal clinicians and doctors are experienced with minimising pain to optimise your comfort. We can use a topical numbing cream, ice presses and other pain relief methods to help ensure you have a safe and comfortable experience.
7. Is there any downtime after lip filler?
Most people return to work and their normal routine the next morning after treatment. We advise all our patients to undergo 20 minutes of LED light therapy (available at our clinics) immediately afterwards, which helps decrease bruising and promotes collagen remodelling.
8. How long does lip filler last?
Hyaluronic acid fillers can produce excellent results for a period of six months (for the more superficial fillers) and up to 12 months (for the deeper, more robust fillers) post-injection treatment!
9. How do I get started with lip filler?
If you would like to enhance your lips for a fuller, more natural-looking smile, give us a call or book online for a consultation with one of our dermal clinicians, and let's get started tailoring your treatment plan!