CoolSculpting: Is fat freezing right for me?
Stubborn pockets of fat can accumulate in common problem areas such as the tummy, chin and arms as a natural part of ageing, even for people who maintain a healthy diet and exercise regime. This can result in a double chin, "tuck shop arms", "love handles" and other areas of residual fat that might make you feel self-conscious.
CoolSculpting helps to gently remove stubborn fat in the tummy, love handles, thighs, hips, double chin, and more, to effectively tighten, contour and tone your face, neck and body.
CoolSculpting, also known as cryolipolysis or fat freezing, targets stubborn fat pockets that cannot be removed through regular diet and exercise, leaving you with a beautifully contoured body. It is a medical procedure that gently and effectively removes excess fat cells from underneath your skin, leaving the skin unaffected.
What areas can be treated with CoolSculpting?
CoolSculpting is the ideal treatment for:
Tummy
Love handles
Thighs
Mid-back
Male breasts
Double chin
Fat rolls
Hips
Chest
CoolSculpting is a non-surgical, non-invasive alternative to liposuction or surgery, requiring no downtime, and can reduce fat cells in a treatment area by up to 25 per cent! It is also one of the only effective minimally-invasive therapies to treat a double chin.
How does fat freezing work?
During the CoolSculpting procedure, a special tool is used to cool problem areas to freezing temperature. The fat cells are frozen and killed, and then naturally break down and are flushed out through your liver in the weeks following the treatment.
A roll of fat is placed between two cooling panels, creating a pulling sensation, for about one or two hours. No anaesthesia is required as the treatment caused very minimal discomfort, and the potential side effects are very mild and highly unlikely. There are no incisions because it is a non-invasive procedure, and there is no scarring or recovery time.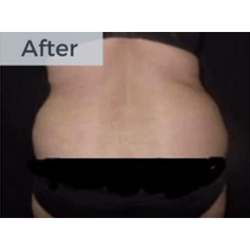 What are the benefits of fat freezing?
Remove love handles and fat rolls: CoolSculpting safely and effectively removes stubborn areas of fat such as tummy rolls, love handles, thigh fat, mid-back fat and male breasts, contouring and slimming your body for a tighter, better defined look.
A permanent solution for stubborn fat: Because CoolSculpting entirely eliminates fat cells, you can enjoy permanent results in the treated areas when combined with a healthy diet and regular exercise.
No surgery, scars or downtime: CoolSculpting removes stubborn areas of fat without surgery, incisions, scarring or recovery time, so you can look and feel amazing quickly and conveniently.
Treat double chin: CoolSculpting is one of the only effective non-invasive therapies to remove a double chin and fat rolls in the neck, jaw and jowls.
How long does fat freezing last?
Results of CoolSculpting may begin to show in as little as a few weeks, with most patients experiencing full results three months after their final treatment. Fat cells frozen by CoolSculpting never return, so the results can be maintained with a healthy diet, lifestyle and exercise.
Is freezing your fat cells healthy?
There are no known risks or harm associated with CoolSculpting, and most people resume normal activities immediately after the procedure. Sometimes, side effects can include redness, swelling, tenderness, bruising, numbness or tingling, and skin sensitivity, but these side effects should resolve by themselves within two weeks.
If you would like to speak to a Doctor or Dermal Clinician about your skin concerns, please call us or book your appointment online.