Skin Cancer Trial Offers Patients Hope of Avoiding Chemotherapy
Patients with squamous cell carcinoma may be spared the effects of chemotherapy, after a world-first trial found that the additional treatment does not increase cure rates for the common form of skin cancer.
Typically, patients are treated using surgery and post-operative radiotherapy – the effects of which are thought to be boosted by regular doses of additional chemotherapy.
However, a trial comprised of 321 patients from Australia and New Zealand found that there was no difference in cure rates between those that received chemo as part of their treatment plan and those that did not.
Patients who were treated with surgery and post-operative radiotherapy had the same cure rate as those who undertook the same treatment in conjunction with chemotherapy. So, the addition of chemo did not add to the success of their treatment, and only left them with the undesirable side effects.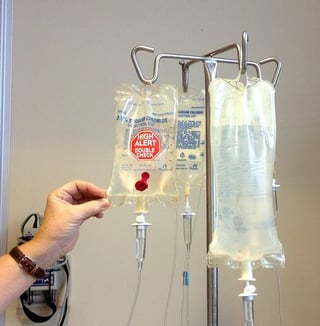 Chemotherapy patients usually suffer from general uneasiness, nausea, vomiting and a weakened immune system. Those on treatment plans without chemo can also suffer adverse side effects such as red skin and fatigue, but these symptoms are not as severe and usually resolve within six weeks.
The trial also found that quality of life was greatly improved in patients who did not undergo chemotherapy as part of their skin cancer treatment plan. These patients had an 88 percent cure rate, and only two percent presented with long-term side effects like scarring.
The trial was conducted by the Trans-Tasman Radiation Oncology Group Cancer Research and took 11 years to complete, beginning in 2005.
Two in three Australians will get skin cancer and about 10 percent will require more than just surgery to treat their condition. Researchers believe that the trial's results can be applied to basal cell carcinoma – another type of skin cancer – but will not work for melanomas or other cancers.