What is an Aesthetic Doctor?
When you consider undergoing an aesthetic treatment, there can be some confusion about the different types of medical professionals, their areas of speciality, and exactly what services they provide. One of the most common misunderstandings is the difference between an Aesthetic Doctor, a plastic surgeon and a dermatologist.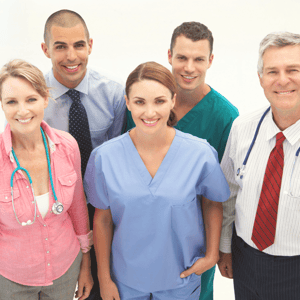 Aesthetic Doctors are general practitioner medical doctors who have a special interest in aesthetic medicine. They attain certificate, diploma or Masters qualifications to deliver services in this field, which include non-invasive and minimally-invasive procedures such as Botulinum toxin injections, dermal fillers, chemical peels, and aesthetic laser.
An Aesthetic Doctor can't perform major surgeries such as breast implants. Their field of focus is the rejuvenation of ageing or damaged skin, such as wrinkles, volume loss, sagging, acne, rosacea, and pigmentation disorders like melasma. Many Aesthetic Doctors offer skin consultations and treatment, as skin conditions tend to go together with aesthetic procedures.
A regular GP cannot simply pick up a needle and begin performing aesthetic injections on their patients, as they must first undergo postgraduate training. To become certified to deliver these services, an Aesthetic Doctor must gain hands-on practise through a series of workshops and training sessions to improve their skills and experience.
In Australia, only medical doctors and Registered Nurses that are practising with a current AHPRA registration can administer cosmetic injectables such as anti-wrinkle injections, dermal fillers and PRP injections. Cosmetic injectable products can only be prescribed by a medical doctor or nurse practitioner, and there are no exceptions to this law. Nurses can only perform injections under the supervision of a doctor and after completing appropriate training. Ideally, you would want to receive these injections from the doctor themselves.
Dermatologists are doctors who specialise in the field of treating skin diseases. They attain postgraduate qualifications in dermatology after medical school and their field of specialty entirely focuses on managing skin conditions such as acne, psoriasis, dermatitis, blistering disorders, hair loss, and skin infections. There is a limited number of dermatologists practising in Australia, so booking with one can often involve long waiting times and higher costs.
Plastic surgeons are doctors who specialise in reconstructive surgery. They must train as general surgeons before they can specialise as plastic surgeons, because they perform procedures that change the appearance of a patient's body such as nose reconstructions, breast enhancements, liposuction and face lifts. They also treat injuries and birth defects.
If you are thinking about consulting a medical professional to address a skin, body or cosmetic concern, consider which doctor will have the best skill set to diagnose and treat your specific issue.

New Town Skin Repair Centre
137 New Town Road, New Town TAS 7008
P6240 4820