You might be at risk of skin cancer (but might not know it)
Some of our patients have had skin cancer for a long time. It might have started with a pre-cancerous sunspot on the scalp, then a basal cell carcinoma on the ear, and later a squamous cell carcinoma on the shoulder.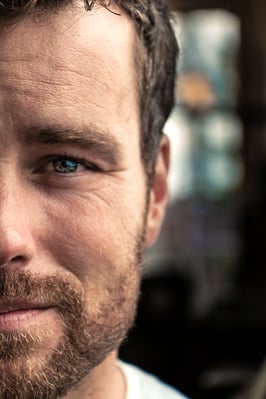 More than 800,000 skin cancers are diagnosed in Australia every year, but some of these occur on the same patient. Some people have lost count of the number of skin cancers they've had removed over the years, and they see us every three, six or 12 months for a full-body examination to catch the next suspicious lesion hiding somewhere on their skin.
These patients tend to be Caucasian and over 55 years of age. They might have worked outdoors for some or all of their lives, and they probably enjoyed the sun in their childhood. They are disproportionately male.
Patients like this are at high risk of skin cancer for a multitude of reasons. They've had it before. They're men. They work outdoors. They've been sunburnt, especially in their younger years. They are predominantly fair-skinned or have light hair/eyes.
Any one of these traits puts you at higher risk of developing skin cancer in your lifetime – and two in three Australians will get skin cancer by the age of 70.
There are other factors, too, such as having skin that burns easily, playing outdoor sports, and having a lot of moles or freckles on your body.
And, for some types of skin cancer like melanoma, there is a genetic risk as well. If your parents, sibling or child has ever been diagnosed with melanoma, your own risk doubles. Learn more.
Do any of the above risk factors apply to you? You should get a professional skin cancer check at least once every year. Don't delay – 99 per cent of skin cancers are curable if found and treated early.
A skin check today could save your life.