One of the most popular treatments for overall skin rejuvenation and hair restoration is Liquid Gold injectables – an all-natural and low-risk therapy that uses the healing powers of your own blood to rejuvenate your skin in common problem areas like the face, hands, neck and décolletage, and regrow your hair!
Also known as an autologous facelift, Liquid Gold injectables is an amazing non-surgical procedure that's surprisingly versatile. It's so called because the procedure involves extracting your own blood and injecting the gold-coloured blood platelets back into your skin.
This stimulates new cell growth, improves skin texture and restores lost facial volume, and can also be effective for promoting and maintaining new hair growth.
Liquid Gold injectables is one of the only injectable treatments safe for use around the eyes, ideal for under-eye treatment to help restore a fresher, more youthful appearance to your face.
How Liquid Gold injectables works
A small sample of your blood is drawn and processed in a specialised system designed to extract the golden-coloured plasma, which is then injected into problem areas. The processing takes 20 minutes and the procedure only takes around 25 minutes.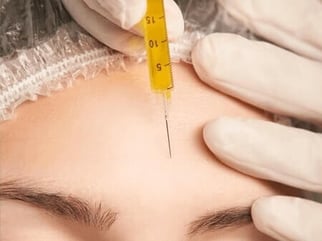 Liquid Gold injectables is an treatment is ideal for:
Tired and dry skin
Uneven skin tone
Wrinkles and lines on the neck and décolletage
Lax skin
Dark circles around the eyes
Under-eye puffiness
Hand rejuvenation
Hair loss
As the injectables are made up of your own blood, there is little risk of rejection or allergic reaction. You are using your natural resources to repair and improve skin tissue, even in sensitive areas like your under-eyes!
Liquid Gold injectables for eye rejuvenation
The eye area is one of those troublesome spots that plagues us as we get older. From dark under-eye circles to puffiness and fine lines, the eyes can give away our age, stress levels and quality of sleep in just one glance. The area around the eyes is also notoriously difficult to treat because the skin is so sensitive.
Liquid Gold injectables safely and effectively rejuvenates the under-eye area to reduce puffiness, heavy bags and dark under-eye circles, and promote a more youthful, refreshed appearance.
Liquid Gold injectables for hair loss
Liquid Gold injectables can trigger natural hair growth by increasing blood supply to hair follicles. It is a safe and effective therapy to reverse hair loss and hair thinning and stimulate new hair growth, with very low risk for side effects because the treatment uses the rejuvenative properties from your own body. Liquid Gold is the ideal hair loss treatment for a balding or patchy scalp, or to thicken fine hair.
Liquid Gold injectables is available at select locations at National Skin Cancer Centres.